ESET, a global leader in cybersecurity, has achieved 'Champion' status for the third year in a row in the latest Global Cybersecurity Leadership Matrix from Canalys, improving upon its 2020 matrix position with a focus on investment in enterprise services and partner training.

Canalys is a leading global technology market analyst firm with a distinct channel focus, and strives to guide clients on the future of the technology industry and to think beyond the business models of the past.

The 2021 Cybersecurity Leadership Matrix assessed 19 cybersecurity vendors on their global channel and market performance over the last 12 months. The Leadership Matrix combines partner feedback from Canalys' Vendor Benchmark tool with an independent analysis of each vendor's momentum in the channel based on their investments, strategy, market performance and execution.

According to Chief Analyst Matthew Ball at Canalys, "ESET's technical support, account management and overall ease of doing business was rated the highest by its partners. It continued to invest in increasing its presence in enterprise accounts and enhanced its Global Managed Service Provider Program with the release of its EMA2 marketplace platform."

ESET MSP Administrator 2 (EMA2) is a license management system for managed service providers (MSPs) that both extends access to ESET's more advanced portfolio and integrates with third-party tools through an application programming interface.

ESET was awarded Champion status with eight other vendors. Champions have the highest scores in the Canalys Vendor Benchmark and exhibit common characteristics, including making improvements to and simplifying channel processes, and demonstrating commitment to growing partner-generated revenue. Champions must also show that they are making sustainable investments in the future of their channel models, including channel programs and initiatives.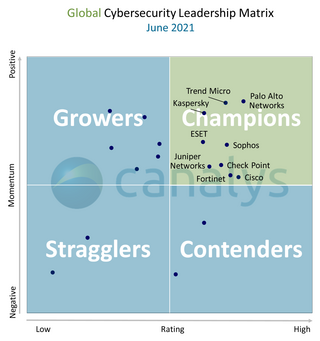 Ignacio Sbampato, chief business officer at ESET, commented: "Since our inception we have kept the same values and approach towards the channel, continuously improving our resources and tools to help our partners develop their Cybersecurity business and protect their customers from all types of threats and we are proud to see they continue to recognize the quality of our products and services. It is rewarding to know that our partners rate us highly and value the investments we have made in our platforms and systems. A safer internet experience for all is central to our core mission, and without a strong relationship with partners we would not have been able to achieve this."

To find out more about ESET's offerings, visit our website.
About ESET
For more than 30 years, ESET® has been developing industry-leading IT security software and services to protect businesses, critical infrastructure and consumers worldwide from increasingly sophisticated digital threats. From endpoint and mobile security to endpoint detection and response, as well as encryption and multifactor authentication, ESET's high-performing, easy-to-use solutions unobtrusively protect and monitor 24/7, updating defenses in real time to keep users safe and businesses running without interruption. Evolving threats require an evolving IT security company that enables the safe use of technology. This is backed by ESET's R&D centers worldwide, working in support of our shared future. For more information, visit www.eset.com or follow us on LinkedIn, Facebook, and Twitter.