ESET Cloud Administrator

Cloud-managed security for up to 250 seats reduces costs and simplifies network protection.


Setup and deployment within minutes


No need for additional hardware or software


Single point of network security management



Secure access via web browser from anywhere
---


ESET Cloud Administrator was awarded APPROVED status in the AV-Comparatives Business IT Security Test 2019.


ESET Cloud Administrator and ESET Business Account meet the requirements for ISO/IEC 27001:2013 Information Security Management Standards (ISMS).
Try before you buy
Register your company with ESET Business Account to get a free 30-day trial license for ESET Endpoint Protection Advanced Cloud including ESET Full Disk Encryption covering up to 25 seats.


protected by ESET since 2011
license prolonged 3x, enlarged 2x


protected by ESET since 2016
more than 14,000 endpoints
Looking for the complete security of your network?
Recommended solutions




Cloud-based management
Endpoint Security
File Server Security
Mail Security
Related products and services
ESET Mail Security
Powerful server malware protection, spam filtering and email scanning for all major email platforms.
ESET Endpoint Security
Award-winning multilayered technology combining machine learning, big data and human expertise.
Stay on top of cybersecurity news
Brought to you by respected security researchers from ESET's 13 global R&D centers.
Corporate blog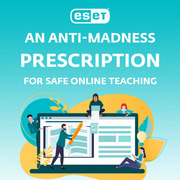 Teachers around the world are adapting to the "new normal" of remote teaching. And although the traditional school year is winding down, you should still be thinking about how to stay connected with...