ESET Endpoint Protection Advanced

Multilayered technology, machine learning and human expertise combined with automated security management. Provides:
Protection against targeted attacks
Protection against ransomware
Prevention of fileless attacks
---
Bundled solution includes following products:
ESET's award-winning endpoint protection solutions leverage multilayered technologies for a perfect balance of performance, speed and accuracy.
Provides advanced protection for all network file storage, general servers and multi-purpose servers. Ensures servers are stable and conflict-free. Limits restarts and maintenance windows to a minimum to guarantee business continuity.
Manage products via on-premise console
ESET Security Management Center is an easy-to-use management console that provides real-time visibility for on- and off- premise endpoints and full reporting for ESET solutions on all OSes. All these features are managed from one single pane of glass.
Complete network visibility
Full security management
Flexible reporting
Automated security management


Awarded top marks, named lightest endpoint security solution in 2017.

Endpoint Security 5/5 Stars in all categories in SC Magazine's review.


AAA award in Enterprise Endpoint Protection test.
ESET Endpoint Protection Advanced
Buy online
Buy now for up to 100 devices
See pricing for over 100 devices
For additional discounts or higher quantities, use the partner locator and find a partner today.
ESET was just what we were looking for – light processing power, reliable protection and cost scalable, yet easy to deploy and manage centrally.
- Richard Ford, Head of IT at SWFC
Looking for more?
Upgrade to full-service protection


ESET Secure Business
Makes your email gateway impenetrable, as well as protecting all your computers, laptops and fileservers. Mail security eliminates email-borne malware at the server level, before it can do any damage.
On-premise management
Endpoint security
File server security
Mail security
Add data access protection


Advanced protection for your organization's data and intellectual property. Includes:
Two-factor authentication
Endpoint encryption
Looking for renewal of your current
ESET® ENDPOINT PROTECTION STANDARD?
See solution page
Stay on top of cybersecurity news
Brought to you by respected security researchers from ESET's 13 global R&D centers.
Corporate blog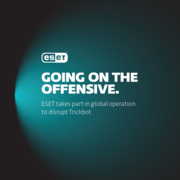 Every time a critical piece of botnet infrastructure is "shot down," thousands of machines are liberated from oppression by their cruel botnet masters.