Manage your company's IT security from the cloud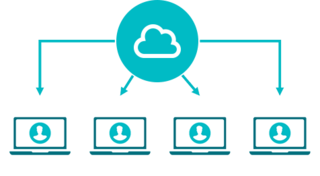 Single point of network security management
Available safely via web browser from anywhere
No need for additional hardware or software
Deploy endpoint and server security in minutes
Cloud-based security management saves you money, and the time of your IT administrators
Included in license, allowing monthly invoicing
Solution is included in ESET business product license. In addition to yearly licensing it allows software-as-a-service (SaaS) licensing model with monthly payments to better plan your IT budget and balance cash-flow.
Free your IT staff's time
Security management is more intuitive than ever with customizable dashboards and quick responses. Get notifications on every issue in real time.
No server installation and maintenance
Server installation, settings and general maintenance are a thing of the past. ESET Cloud Administrator upgrades itself in the background and always runs in the latest version.
Manage up to 250 endpoints
Centrally managed security provides better visibility and faster response to possible threats.
2FA protected login
Protect access to ESET Cloud Administrator with 2-factor authentication for validating user identity.
Set-up a managed network in minutes
It takes just minutes to activate ESET Cloud Administrator and deploy pre-activated security solutions.
ESET Cloud Administrator supports newest versions of the following ESET security products


ESET Endpoint Antivirus & Security
for Windows


ESET Endpoint Antivirus & Security
for OS X/macOS


ESET File Security
for Microsoft Windows Server


ESET Mail Security
for Microsoft Exchange Server


ESET Mail Security
for IBM Domino


ESET Security
for Microsoft Sharepoint Server
Registration form
Register now to enjoy Early Access to ESET Cloud Administrator