Compare ESET products for macOS home devices
Complete Antivirus Protection
Antivirus and Antispyware Eliminates all types of threats, including viruses, worms and spyware.
Anti-Phishing Protects against malicious HTTP websites attempting to acquire your sensitive information – usernames, passwords, banking information or credit card details.
Auto-Scan of Removable Media Scans devices and media for malware immediately upon insertion.
Cross-Platform Protection Stops malware spreading from Mac to Windows endpoints and vice versa.
Presentation Mode No disruptive pop-ups during presentations, videos or other full-screen applications.
Small System Footprint Maintains high computer performance and extends the lifetime of hardware.
Fast Updates Updates are small and automatic, so won't noticeably affect your internet connection speed.
Free Support in Local Language Get free email and phone support in your language, wherever you are.
Multi-Platform Protection*
Android tablets and smartphones
Enjoy secure web browsing
Personal Firewall Prevents hackers from gaining access to your computer. Allow you to stay invisible to other users when using public Wi-Fi networks.
Removable Media Control Allows you to prevent unauthorized copying of your private data to external devices.
Web and Email Scanning Scans websites (HTTP) while you browse and checks all incoming emails (POP3/IMAP) for viruses and other threats.
Monitor your network and devices
Parental Control Lets you block unwanted internet content, to help keep your kids safe online.
Network Connections Helps you understand what is happening on your network interfaces.
Choose level of protection
Advanced protection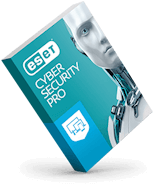 Most popular
ESET Cyber Security Pro

Multi-platform protection
macOS, Windows and Android
Award-winning antivirus
makes my online journey easier
Keep me safe from attacks
that hold my data for ransom
Stop hackers
from accessing my computer
Monitor my home network traffic
and let me view all communications
Essential protection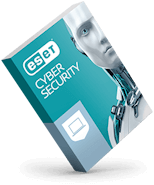 ESET Cyber Security
Transfer my license
to Windows device
Award-winning antivirus
makes my online journey easier
Keep me safe from attacks
that hold my data for ransom protected users worldwide
years of NOD32 technology
Try before you buy
Advanced protection

ESET Cyber Security Pro
Comprehensive and reliable internet security for modern users, including personal firewall and parental control.


No credit card, no commitment.