ESET File Security for Linux

Proven security combining speed, accuracy and minimal system impact.










---
Anti-malware and anti-spyware
Eliminates all types of threats including viruses, rootkits, worms and spyware. Provides real-time on-access scanning of the server-stored data. Powered by the advanced ESET LiveGrid® technology combining speed, accuracy and minimal system impact. Delivers proven protection while leaving more system resources for the server's vital tasks.
Remote administration
Compatible with ESET Security Management Center and ESET Cloud Administrator, allowing management through a web interface. Gives you the option to schedule on-demand scans, actions and security tasks. Allows you to customize log details and modify reports and notifications to help you monitor compliance with company security standards.
Distribution-independent solution
ESET provides installers for the most popular distributions of Unix-based systems, including the 'Ready' variations of RedHat and SuSE that comply with the File-System-Hierarchy standard. Requires no external libraries except for LIBC.


protected by ESET since 2017
more than 9,000 endpoints


protected by ESET since 2016
more than 14,000 endpoints
The ESET difference
Unrivalled performance
ESET products continue to excel in the performance arena and win third-party tests that prove how light-weight our endpoints are on systems. ESET File Security solutions are built on 64-bit core, including ESET's latest 64-bit scanning engine for best performance and protection of customer's data.
Parallel on-demand scanning
ESET File Security allows side-by-side on-demand scans that will run without significant impact on the system due to multi-core support. In case scans have different paths to scan, they can be started either by the admin or scheduler. The scheduler allows recurrent planning of scans, updates or log maintenance.
Powered by LiveGrid® technology
Latest LiveGrid® technology improves security using a reputation and feedback system, including whitelisting for better performance during scanning.
Network Attached Storage scanning
The product provides real-time file system protection of the whole host with the ability to scan attached network drives. ESET File Security for Linux can utilize ICAP protocol to scan NAS systems like Dell EMC Isilon as well as other ICAP-compliant NAS systems (Hitachi and other ICAP-compliant storages).
ESET FILE SECURITY FOR LINUX
Make an enquiry
Leave us your contact details to receive an offer tailored for your company´s needs.
Try before you buy
Why not download a free trial license with absolutely no commitment on your side.
Operating systems:
RedHat Enterprise Linux (RHEL) 7 64-bit
CentOS 7 64-bit
Ubuntu Server 16.04 LTS 64-bit, 18.04 LTS 64-bit
Debian 9 64-bit
SUSE Linux Enterprise Server (SLES) 12 64-bit, 15 64-bit
Glibc Library 2.12 or higher
Linux Kernel 2.6.32 or higher

Compatible with ESET Security Management Center. See more information about ESET Remote Administrator compatibility.
Looking for the complete security of your network?
Related bundled solutions

Multilayered technology, machine learning and human expertise combined with easy to use on-premise security management to provide best level protection.
On-premise management
Endpoint security
File server security
Related products and services
Stay on top of cybersecurity news
Brought to you by awarded and recognized security researchers from ESET's 13 global R&D centers.
Corporate blog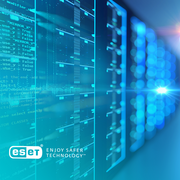 In light of recent Microsoft Exchange exploits after the vulnerability disclosure and patch release, we comb through our own data and wonder how many organizations have already been probed and...