Find ESET products that suit your needs
Unbeaten Protection
ESET makes the only product ever to win 100 VB100
Virus Bulletin, an independent testing organization, presented its first Virus Bulletin Award (VB100) in 1998 and to this day is considered to be the most renowned accolade in the industry. With an unbroken record over 18 consecutive years, no other security product can claim to be the top performer by this independent testing and certification body.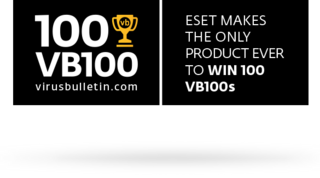 Blog
Vulnerabilities in 4G LTE networks could lead to attackers using your identity to send messages or intercept your messages.
Security by Design, a new report from the UK's Department for Digital, Culture, Media and Sport (DCMS) proposes a Code of Practice for consumer Internet of Things (IoT) devices.
We Live Security blog
Malware in the official Google store never stops appearing. For cybercriminals, sneaking their malicious applications into the marketplace of genuine apps is a huge victory.
The report also sheds light on how not to go about attracting new hires. Vague and inaccurate job descriptions along with job postings that include insufficient qualifications were found to top the...
Press Releases
With ransomware, malware attacks and cyber-threats becoming increasingly sophisticated and harmful, it is vital that consumers take appropriate steps to protect themselves with the highest levels of...