25 years of ESET
"A company is a sort of living organism, made up of people, distinct individuals, says ESET's co-founder Miroslav Trnka
ESET Partners
ESET is present in more than 200 countries and territories worldwide. What do our partners think about Enjoying Safer Technology?
Enjoy Safer Technology - ESET insiders
Our goal is to let you Enjoy Safer Technology.
Enjoy Safer Technology - Richard Marko
"ESET's mission is to build a more secure digital world in which everyone can enjoy safer technology,"
says Richard Marko, CEO.
ESET: Individual Stories

A look behind the scenes of ESET's campaign highlighting how the internet has affected individual people's lives
Enjoy the Internet protected by ESET
Find out how people from all over the world enjoy the Internet.
ESET products
Protecting consumers
ESET Smart Security
Protecting businesses
ESET Secure Authentication
ESET Logos
The ESET logo is a registered trademark of ESET. Any of its usage has to follow the ESET design manual guidelines and is subject to prior approval by ESET. Each usage of the ESET logo has to be duly documented and subject to approval by ESET.

ESET logos - turquoise
ZIP contains: logo without text, horizontal 1line, horizontal 2lines, vertical 2lines. Formats PNG & EPS.

Download logos - turquoise (ZIP, 488KB)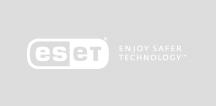 ESET logos - white
ZIP contains: logo without text, horizontal 1line, horizontal 2lines, vertical 2lines. Formats PNG & EPS.

Download logos - white (ZIP, 353KB)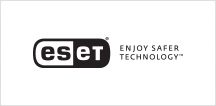 ESET logos - black
ZIP contains: logo without text, horizontal 1line, horizontal 2lines, vertical 2lines. Formats PNG & EPS.

Download logos - black (ZIP, 410KB)
Learn more about logo placement
Logo placement:
Wherever possible, place the ESET logo on the left side of the page. Logo can be positioned at the top or the bottom of the page. Avoid centering the logo within the page. If the centering is necessary, please use the stacked version of the ESET logo.

Enlargement of the ® symbol:
With the width of 15mm, please increase the symbol by 200%
Low resolution (online) increase the symbol by 300%

Recommended sizing:
Minimum size of the logo is 10mm width22mm width use for A6 Portaits/Landscapes; A7 Portaits/Landscapes; Stationery, CD/DVD Sleeve25mm width use for A5 Portaits/Landscapes; DL Portaits/Landscapes; Stationery28mm width use for A4 Portaits/Landscapes; Stationery33mm width use for A3 Portraits/Landscapes;45mm width use for A2 Portraits/Landscapes