Safetica - Data Loss Prevention

Prevent expensive data leaks and enable your organisation to:


Cover all data leak channels


Identify suspicious trends and activities


Save the cost of repairing a data breach


---


1. Safetica Endpoint Client
Records actions on PCs and laptops and enforces policy rules via a small agent application (optionally hidden from the user).
2. Safetica Management Services & SQL database
Data is automatically transferred from network computers to the server. Laptop data is synchronised upon connecting to the network. Client settings are synced in reverse order.
3. Safetica Management Console
All data can be viewed or visualised from the management application. All settings and outputs can be adjusted here as well.
4. WebSafetica
Analytical tools provide an online overview of all gathered data. WebSafetica runs in every web browser, both in PC and mobile.
---
Prevention of data loss
With Safetica, all key data is safeguarded within your company. BYOD security enables control to be held over employee-owned devices, ensuring that data remains in a protected zone. To avoid data being misused for competitor research or personal gain, restrictions can also be placed on employee access to key data.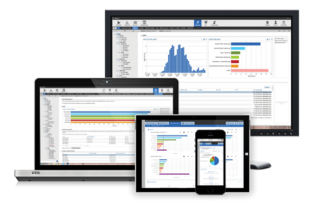 Safeguards misdirected files
It prevents misdirected important files from getting into the wrong hands, either inside or outside an organisation and alerts management to potential dangers. Employees are prevented from utilising key data to start their own business or give vital information to a competitor.
Detects attacks
Safetica identifies socially engineered attacks and blackmail attempts at the initial stages, preventing them from damaging your company.
Encrypts data to prevent misuse
Even if laptops and thumb drives are lost or stolen, your important data remains protected thanks to Safetica's data leak prevention software. The whole disc or selected files remain encrypted and unreadable by the thief.
Manages resources
Safetica's software identifies changes in productivity to reveal potentially dangerous trends on a timely basis. Online activities, printer use and application usage is also limited by the software in order to help manage your company's resources.


protected by ESET since 2017
more than 9,000 endpoints


protected by ESET since 2016
more than 14,000 endpoints
The Safetica difference
Comprehensive DLP solution
The capabilities of Safetica Data Loss Prevention cover a wide range of events and areas, helping your organisation to stay clear of an unwanted incidents.
Reporting and activity blocking
Safetica's software reports a wide range of activity including: all file operations, long-term trends, short-term fluctuations in activity, all websites, emails and web-mails, instant messaging, printers, screen activity and keylogging.
Data Loss Prevention events and areas
Software extends to all hard drives, network file transfer, emails, SSL/HTTPS, printers, Bluetooth, CD/DVD/Blu-ray readers. Safetica also offers control of Application File Access and cloud disk detection and restriction.
SAFETICA - DATA LOSS PREVENTION
Make an enquiry
Leave us your contact details to receive an offer tailored for your company´s needs. No commitment.
Safetica Endpoint Client (Agent software)
MS Windows 7 and higher, 32-bit and 64-bit systems
Safetica Management Service (server component)
MS Windows Server 2012 R2 and higher, 32-bit and 64-bit systems
MS SQL (server component for standard installation)
Shared or dedicated server, MS SQL 2012 R2 and higher, eventually MS SQL 2016 Express and higher
For detailed operating system support see Product Overview (PDF).
Looking for the complete security of your network?
Related bundled solutions
Stay on top of cybersecurity news
Brought to you by awarded and recognised security researchers from ESET's 13 global R&D centers.
Corporate blog
ESET explores the world of rookie e-trading: Cryptocurrency? Regular currency? Traditional stocks? In the second blog of our new FinTech series, we discuss the security and data implications of online...
This Anti-Bullying Week, ESET takes a look at two elements of online bullying – what are 'cyberbullying' and 'trolling', why they matter, and crucially, how to stop them.