Remote Workforce Offer

Improved ransomware and zero-day attacks protection managed from a cloud-based console, ideal for remote working businesses, combined with a powerful solution protecting business data.


Improved ransomware protection and zero-day attacks solution with cloud sandboxing


Cloud management offers you complete visibility of the network for a lower total cost of ownership


Our advanced technology uses machine learning, deep behavioural inspection and an intuitive ransomware shield

---
What's included in your remote working bundle:
Manage products via the cloud
ESET Cloud Administrator web-based console enables you to remotely manage all products of your company's network security. This service gets rid of the need to buy, install or maintain additional hardware so you reduce the total cost of ownership. It's easy to use, so you can concentrate on your important work.
All your network security management in one place
Secure access via web browser
Always the latest version – updates automatically
No need for extra hardware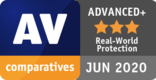 Outstanding results of ESET Endpoint Security solution in the recent Real-World Protection Test


ESET achieves highest score in SE Labs test in Q1 2020


ESET recognised for peak excellence in the category of usability in the AV Test annual test results


ESET achieved the highest final score in the latest VBSpam test
ESET REMOTE WORKFORCE OFFER
Comprehensive endpoint security for small and medium businesses
Request a trial
Try before you buy
Register now for a free trial and to discuss your requirements with our team
ESET REMOTE WORKFORCE OFFER
Try before you buy
Register now for a free trial and discuss your requirements with our team.
System requirements and licence information
Supported operating systems
Microsoft Windows 10, 8.1, 8, 7, Vista
macOS 10.9 and later
Ubuntu Desktop 18.04 LTS 64-bit and RedHat Enterprise Linux (RHEL) Desktop 7 64-bit
For smartphones and tablets
Android 5 (Lollipop) and later
iOS 8 and later
Microsoft Windows Server 2019, 2016, 2012, 2008
Microsoft Windows Storage Server 2016, 2012, 2008
Microsoft Windows MultiPoint Server 2012, 2011, 2010
Microsoft Windows Small Business Server 2011, 2008
RedHat Enterprise Linux (RHEL) 7 64-bit
CentOS 7 64-bit
Ubuntu Server 16.04 LTS 64-bit, 18.04 LTS 64-bit
Debian 9 64-bit
SUSE Linux Enterprise Server (SLES) 12 64-bit, 15 64-bit
VMware vSphere 6.0, 6.5+, 6.7+ (vCenter Single Sign-On, vSphere Client/Web Client, vCenter Server, vCenter Inventory Service)
VMware NSX Manager 6.3+, 6.4.0, 6.4.1, 6.4.2
VMware Guest Introspection 6.2.4+, 6.3+, 6.4+
Mix and match your licences as needed
ESET Unilicense covers all the bases, allowing you to mix and match endpoint protection without wasting a single licence.
Add additional devices at any time
You can purchase licences for additional computers, laptops, mobile devices and servers any time.
Transfer a licence to another computer
You can transfer a valid ESET licence to a completely new computer from the original one. In addition, you can switch from one OS to another.
Switch to a different platform at any time
It's easy to switch your protection from one platform to another any time during the licence term, without having to purchase additional licences.
ESET is a reliable security solution that is easy to manage… the business benefits from the extra protection and less downtime.
- Brian Keenes, IT Manager, Red Lea Chickens Pty Ltd
Stay on top of cybersecurity news
Brought to you by awarded and recognised security researchers from ESET's 13 global R&D centres.
Corporate blog
With many industries and retail in particular crippled by the pandemic's restrictions, this year's Black Friday and Cyber Monday offer a chance to recoup some losses. And with the online space...
Emotet, Trickbot and Qbot don't just flood your inbox with dangerous malspam, but also go after other devices in your network. Here, we explore the question of 'how to stay safe from malicious bots'...