Your business partner, trusted by analysts and customers alike








Complete the form to find out how we can help you with insider threats
The insider threat is one that is rarely discussed until it is too late. The company secrets may have already landed on the competitor's desk before you knew it. So what can be done about it? The insider risk is a two-pronged attack, one being the accidental insider threat where a colleague accidentally clicks a link and fills in his/her credentials; then there is the disgruntled employee which is harder to detect. Cyber security requires a multi-layered approach and frequently needs to be assessed and dynamically improved.
By submitting this form, you consent to be contacted about ESET's products and services by ESET and selected companies who partner with us to provide our products and services. We are committed to safeguarding your privacy. If you want more information on how we collect and use your personal data, please read our privacy policy
Three pillars of ESET's unique combined technology

LiveGrid®
ESET LiveGrid® is a preventative system that gathers information about threats from ESET users around the world. The LiveGrid® database contains reputation information about potential threats, detects and blocks recently introduced threats making it highly effective against rapidly changing threats.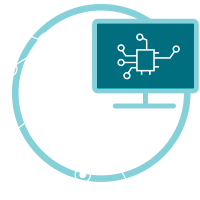 Machine Learning
ESET's in-house machine learning engine uses the combined power of neural networks (deep learning and long short-term memory) and handpicked algorithms to generate a consolidated output and correctly label incoming samples as clean, potentially unwanted or malicious.

Human Expertise
Our World-class security researchers in 13 globally distributed R&D centers share our elite know-how and intelligence to ensure the best round-the-clock threat intelligence. Read their expert analysis of cybersecurity news in our corporate blog and in welivesecurity.com.
ESET is the Challenger in Gartner's 2018 Magic Quadrant for endpoint protection
Key points of Gartner's report include:
Detailed analysis of the endpoint protection market including growth factors and challenges.
Unbiased, comparative evaluation of vendors in this space.
Specific criteria which assist in the selection of endpoint protection platforms.
Explore ESET's performance as Challenger. Get report
---


Machine learning & human expertise
Automated threat evaluation combined with world-class security researchers


Quality technical
support

24/7 local and reliable assistance round the globe in your language


Signature light
footprint
3rd party tests prove lightweight on performance & lowest impact on network


Effortless implementation. Single pane of glass, one-click management for all products


Multilayered technology assures best detection rates and minimal false positives