ESET Cloud Office Security

Provides advanced preventive protection for Microsoft 365 applications against malware, spam and phishing attacks via an easy-to-use cloud management console.
---
Secured cloud applications
Protect your cloud-based email service and storage—Microsoft 365 Exchange Online and OneDrive—with powerful spam filtering, anti-malware scanning and anti-phishing technologies.
Business continuity
Helps reduce your risk of data breaches and helps protect employees from malicious content by scanning incoming email and attachments for spam, phishing links and malware such as viruses, spyware and ransomware.
Cloud-based console and automation
Get immediately notified about new detections directly in the console or via email alerts. New email users are protected automatically without the need to add them manually.
Manageable security service
ESET Cloud Office Security supports multi-tenancy, integration with ESET MSP Administrator, and a web-based console hosted in the cloud so no additional investments to on-premises resources are needed by an MSP.
Committed to the highest industry standards


ESET achieved the highest final score in the latest VBSpam test, with outstanding malware and phishing catch rates.

ESET was awarded APPROVED status for its endpoint protection solution in the AV-Comparatives Business Security Test 2020.


ESET is compliant with ISO/IEC 27001:2013, an internationally recognized security standard in implementing and managing information security.
The ESET difference
Anti-spam
Now using an enhanced, award-winning engine with improved performance, this essential component filters out spam emails to help keep user mailboxes free of unsolicited and potentially malicious content.
Anti-phishing
Helps keep users from accessing web pages that are known to be phishing sites. Email messages can contain links that lead to phishing web pages. ESET Cloud Office Security searches the message body and the subject of incoming email messages to identify such links (URLs). The links are compared against the phishing database, which is being constantly updated.
Anti-malware
Scans all incoming emails and attachments as well as all new and changed files. This helps to keep the user's mailbox free of malware and prevents the spread of malware through cloud storage across multiple devices.
Quarantine manager
An admin can inspect objects in this storage section and decide to delete or release them. This feature offers simple management of emails and files that have been quarantined by our security product. On top of that, the admin can download quarantine items and investigate them with other tools locally.
Automatic protection
With this option enabled, the admin has the certainty that any new users created within Microsoft 365 will be automatically protected without the need to add them individually in the console.
Notifications
Notifications greatly improve admins' efficiency as they do not need to constantly check the dashboard. When new potentially suspicious activity is detected within ESET Cloud Office Security, it can send out an email to notify the admins or users, so they are immediately aware of the threat.
ESET CLOUD OFFICE SECURITY

Try before you buy
Experience our advanced protection and get a free 30-day trial license for up to 25 users.
No commitment
Stay on top of cybersecurity news
Brought to you by respected security researchers from ESET's 13 global R&D centers.
Corporate blog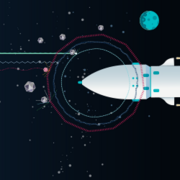 With cybercrime skyrocketing during the coronavirus shutdowns, there has never been a more important time to secure your business from potential threats. Running a business is a complicated, difficult...
Over the years, bullying has evolved and adapted to the changing world—and, unfortunately, technology now plays a significant role in many forms of bullying among young people. One third of all people...
Webinars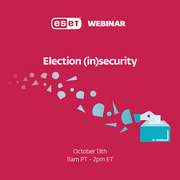 Tuesday, Oct 13, 2020
As the countdown to the U.S. presidential election continues, concerns about cybersecurity are on the rise.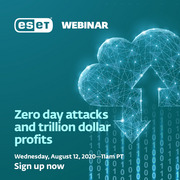 Wednesday, Aug 12, 2020
Learn about the latest advanced cyberattacks and effective defenses.