ESET Dynamic Threat Defense

Provides another layer of security for ESET products like Mail Security and endpoint products by utilizing a cloud-based sandboxing technology to detect new, never before seen types of threats. Future-proof your company's IT security with:






Zero-day threats detection


---
Unparalleled speed
Every minute counts. That's why ESET Dynamic Threat Defense is designed to analyze the majority of samples in under five minutes. If samples were previously analyzed, all devices at your organization will be protected in seconds.
Full visibility
Every sample analyzed by ESET Dynamic Threat Defense is listed in the "Submitted files" section of ESET Security Management Center, which also provides transparency for all data sent to ESET LiveGrid® cloud malware protection system.
PROBLEM
Ransomware tends to enter unsuspecting users' mailboxes through email.
SOLUTION

ESET Mail Security automatically submits suspicious email attachments to ESET Dynamic Threat Defense.
ESET Dynamic Threat Defense analyzes the sample, then submits the result back to Mail Security—usually within five minutes.
ESET Mail Security detects and automatically remediates attachments that contain the malicious content.
The malicious attachment never reaches the recipient.


Protected by ESET since 2011.


Protected by ESET since 2016.
The ESET difference
Behavioral Detection - HIPS
ESET's Host-based Intrusion Prevention System (HIPS) monitors system activity and uses a pre-defined set of rules to recognize and stop suspicious system behavior.
Ransomware Shield
Monitors and evaluates all executed applications based on their behavior and reputation. Designed to detect and block processes that resemble the behavior of ransomware.
Network Attack Protection
ESET Network Attack Protection improves detection of known vulnerabilities on the network level. It constitutes another important layer of protection against spreading malware, network-conducted attacks, and exploitation of vulnerabilities for which a patch has not yet been released or deployed.
Advanced Memory Scanner
A unique ESET technology which effectively addresses an important issue of modern malware—heavy use of obfuscation and/or encryption. Advanced Memory Scanner monitors the behavior of a malicious process and scans it once it decloaks in memory.
In-product sandbox
ESET's In-product sandbox assists in identifying the real behavior hidden underneath the surface of obfuscated malware. Utilizing this technology, ESET solutions emulate different components of computer hardware and software to execute a suspicious sample in an isolated virtualized environment.
Exploit Blocker
ESET Exploit Blocker monitors typically exploitable applications (browsers, document readers, email clients, Flash, Java, and more) and instead of just aiming at particular CVE identifiers, it focuses on exploitation techniques. When triggered, the threat is blocked immediately on the machine.
Two-way firewall
Prevents unauthorized access to the company network. It provides anti-hacker protection, data exposure prevention, and enables defining trusted networks—making all other connections, such as to public Wi-Fi, restricted by default.
Botnet Protection
ESET Botnet Protection detects malicious communication used by botnets, and at the same time identifies the offending processes. Any detected malicious communication is blocked and reported to the user.
Explore our customized solutions
Please leave us your contact details so we can design a personalized offer to fit your requirements.
No commitment.
Looking for additional solutions?
Related enterprise-grade solutions


Security Management Center
Endpoint Protection Platform
Cloud Sandbox Analysis
Related products and services
ESET Security Management Center
Real-time network security visibility, reporting and management on a single screen.​​​​​​​
ESET Endpoint Security
Award-winning multilayered technology combining machine learning, big data and human expertise.
ESET Mail Security
Powerful server malware protection, spam filtering and email scanning for all major email platforms.
Stay on top of cybersecurity news
Brought to you by respected security researchers from ESET's 13 global R&D centers.
Corporate blog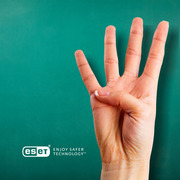 Practicing good cyber hygiene is a critical part of staying safe online and protecting yourself from threats such as malware, phishing, viruses and data loss – and it doesn't just apply to your...
Webinars
Wednesday, May 13, 2020
Did you miss ESET's presentation? Watch "Ransomware from the Dark Side" by Tony Anscombe on-demand now...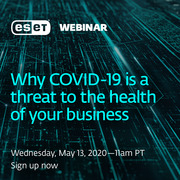 Wednesday, May 13, 2020
Join ESET researchers Robert Lipovsky and Ondrej Kubovic, who have been following the situation closely, to hear about the latest attacks...