ESET Dynamic Threat Defense

Provides another layer of security for ESET products like Mail Security and endpoint products by utilizing a cloud-based sandboxing technology to detect new, never before seen types of threats. Future-proof your company's IT security with:






Zero-day threats detection


---
Unparalleled speed
Every minute counts. That's why ESET Dynamic Threat Defense is designed to analyze the majority of samples in under five minutes. If samples were previously analyzed, all devices at your organization will be protected in seconds.
Behavioral report
Customers with more than a 100-seat license get a full behavioral report with detailed information about samples and their behavior observed during analysis in the sandbox.
PROBLEM
Ransomware tends to enter unsuspecting users' mailboxes through email.
SOLUTION

ESET Mail Security automatically submits suspicious email attachments to ESET Dynamic Threat Defense.
ESET Dynamic Threat Defense analyzes the sample, then submits the result back to Mail Security—usually within five minutes.
ESET Mail Security detects and automatically remediates attachments that contain the malicious content.
The malicious attachment never reaches the recipient.


Protected by ESET since 2011.


Protected by ESET since 2016.
The ESET difference
Automatic protection
The endpoint or server product automatically decides whether a sample is good, bad or unknown. If the sample is unknown, it is sent to ESET Dynamic Threat Defense for analyzing. Once analysis is finished, the result is shared and the endpoint products respond accordingly.
Mail Security protection
Not only does ESET Dynamic Threat Defense work with files, but it also works directly with ESET Mail Security, to ensure that malicious emails are not delivered to your organization.
Mobility
Nowadays, employees are constantly traveling and not on premise. That is why ESET Dynamic Threat Defense is able to analyze files no matter where users are. The best part is that if anything malicious is detected, the whole company is immediately protected.
Tailored customization
ESET allows per-computer detailed policy configuration for ESET Dynamic Threat Defense so the admin can control what is sent, and what should happen based off the received result.
Explore our customized solutions
Please leave us your contact details so we can design a personalized offer to fit your requirements.
No commitment.
Looking for the complete security of your network?
Related security solutions


Cloud-based Management Console
Endpoint Protection Platform
Cloud Sandbox Analysis
Full Disk Encryption


Security Management Center
Endpoint Protection Platform
Cloud Sandbox Analysis
Related products and services
Stay on top of cybersecurity news
Brought to you by respected security researchers from ESET's 13 global R&D centers.
Corporate blog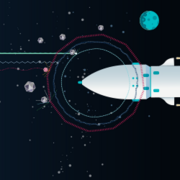 With cybercrime skyrocketing during the coronavirus shutdowns, there has never been a more important time to secure your business from potential threats. Running a business is a complicated, difficult...
Over the years, bullying has evolved and adapted to the changing world—and, unfortunately, technology now plays a significant role in many forms of bullying among young people. One third of all people...
Webinars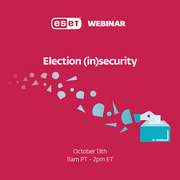 Tuesday, Oct 13, 2020
As the countdown to the U.S. presidential election continues, concerns about cybersecurity are on the rise.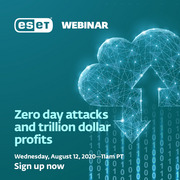 Wednesday, Aug 12, 2020
Learn about the latest advanced cyberattacks and effective defenses.