ESET Enterprise Inspector

This endpoint detection and response tool leverages ESET's multilayered Endpoint Protection Platform. All layers send relevant data to ESET Enterprise Inspector, which analyzes vast amounts of real-time endpoint data. Provides quick analysis and remediation of any security issue in the network, enabling organizations to:


Detect advanced persistent threats






Protect against ransomware


Neutralize state-sponsored attacks
---
Open architecture & integrations
ESET Enterprise Inspector provides a unique behavior and reputation based detection that is fully transparent to security teams. All rules are easily editable via XML to allow fine-tuning. New rules can be created to match the needs of specific enterprise environments, including SIEM integrations.
Adjustable sensitivity
Utilize ESET's endpoint detection and response tool to easily suppress false alarms by adjusting the sensitivity of detection rules for different computer groups or users. Combine criteria such as file name/path/hash/command line/signer to fine-tune the trigger conditions.
Historic threat hunting
Easily adjust behavior rules with ESET Enterprise Inspector, then "re-scan" the entire events database. This allows you to then identify any new alerts triggered by the adjusted detection rules. No longer are you searching for a static IOC, but for dynamic behavior with multiple parameters.
PROBLEM
Threat hunting & blocking
Your early warning system or Security Operation Center (SOC) delivers a new threat warning. What are your next steps?
SOLUTION

Leverage early warning system to retrieve data on upcoming or new threats.
Search all computers for existence of new threat.
Search all computers for indicators of compromise that threat existed prior to warning.
Block threat from being able to infiltrate network or execute within organization.


Protected by ESET since 2011.


Protected by ESET since 2016.
The ESET difference
Threat hunting
Apply filters to sort data based on file popularity, reputation, digital signature, behavior or contextual information. Setting up multiple filters enables automated threat hunting, including for APTs and targeted attacks, which can be customized to each company's environment.
Investigation and remediation
Use a built-in set of rules or create your own rules to respond to detected incidents. Each triggered alarm features a proposed next step to be performed for remediation. This quick response functionality helps to ensure that any single incident will not fall through the cracks.
Incident detection (root cause analysis)
Quickly and easily view all security incidents in the alarms section. With a few clicks security teams can see a full root cause analysis that includes: what was affected, where and when the executable, script, or action was performed.
In cloud or on-premise
Taking advantage of ESET'S flexible and secure architecture, ESET Enterprise Inspector allows on-premise as well as cloud deployment for better scalability based on the company's size and needs.
Anomaly and behavior detection
Check actions that were carried out by an executable and utilize ESET's LiveGrid® reputation system to quickly assess whether executed processes are safe or suspicious. Grouping of computers by user, department or other criteria allows security teams to quickly identify whether the user is entitled to perform a specific action or an action is out of the ordinary.
Company policy violation
Block malicious modules from being executed on any computer in your organization's network. ESET Enterprise Inspector's open architecture enables detection of policy violations regarding specific software like torrent applications, cloud storage, Tor browsing, etc.
Explore our customized solutions
Please leave us your contact details so we can design a personalized offer to fit your requirements.
No commitment.
Additional services complementing ESET Enterprise Inspector
ESET professionals install and configure ESET products in your environment and train your organization to ensure a successful deployment/upgrade.
ESET Threat Monitoring
ESET experts constantly monitor your network and endpoint security, alerting you in real time when something suspicious needs your attention.
ESET experts help customers investigate data, events and alarms generated by ESET Enterprise Inspector including root cause analyses, forensic investigation and actionable mitigation advice.
Looking for additional solutions?
Related enterprise-grade solutions


Security Management Center
Endpoint Protection Platform
Cloud Sandbox Analysis
Endpoint Detection & Response
Related products and services
Stay on top of cybersecurity news
Brought to you by respected security researchers from ESET's 13 global R&D centers.
Corporate blog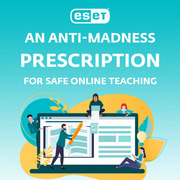 Teachers around the world are adapting to the "new normal" of remote teaching. And although the traditional school year is winding down, you should still be thinking about how to stay connected with...
Webinars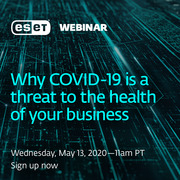 Wednesday, May 13, 2020
Join ESET researchers Robert Lipovsky and Ondrej Kubovic, who have been following the situation closely, to hear about the latest attacks...
Tuesday, Mar. 24, 2020
Join ESET experts to hear about the challenges posed by a remote workforce; steps to ensure security and productivity; and specific IT solutions.