What is file encryption?
File encryption "scrambles" the contents of a data file, making it unreadable by others. A "key" is used during the encryption process, and the correct key is required to decrypt the file again and make it readable. The strength of the encryption depends on the encryption method used, and the length of the key.
Why you need file encryption software
Laptops and tablets are easily lost or stolen, and encrypting sensitive information safeguards you against anyone being able to use content found on them.
File encryption is especially important for business users in industries such as healthcare. Data breaches have exposed hundreds of thousands of patient records because of unencrypted data stored on a lost or stolen laptop
How ESET Encryption products work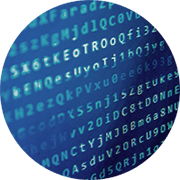 Secures data
Quickly encrypts files and removable media, such as USB keys to keep your data safe and protected.

Simple to use
DESlock Encryption is extremely easy to use. Keys for encrypting and decrypting files are never displayed; instead you just see Encryption Key Names.

Deslock Encryption by ESET
Features include full disk encryption, file/folder and USB encryption, and the ability to remotely wipe computers that may have been compromised.
ESET products that include file encryption:
Encrypting sensitive data before it's stored or emailed makes good financial sense -- because in the event of a data breach, the average cost incurred for each lost or stolen record containing sensitive and confidential information is $158.
2016 Ponemon Cost of Data Breach Study