What is information security?
Information security refers to processes or methodologies that protect information or data. It is presumed that the information is confidential, private or sensitive. Actions prevented include access, disclosure, disruption, destruction or modification.
Information security often refers to electronic data, but can also be applied to physical access to printed data. So it applies not only to network security measures, but also the need to lock file cabinets, doors and install burglar alarms where sensitive data is stored, and shred confidential documents that are no longer needed.
Why you need information security
Information security is vital for computer users because of the many forms of information stored, accessed or exchanged via networked computing devices and the internet.
For data stored on computing devices, factors like weak or reused passwords and various forms of spyware threaten information security. Ransomware is another threat because it doesn't necessarily steal data, but makes it inaccessible.
How ESET information security works

Secure Data
Encrypts files and removable media, such as USB keys to keep your data safe and protected.

Deslock Encryption by ESET
Allows you full control over Encryption, includes things such as Full Disk Encryption, File/Folder, USB Encryption, and the ability to remotely wipe computers that may have been compromised.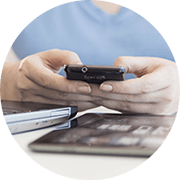 ESET Secure Authentication
Protects against weak passwords by requiring employees to utilize a Second factor when logging into company computers, servers, or applications.
ESET products that include information security:

DESlock+ Encryption by ESET
File encryption

ESET Secure Authentication
Two-factor authentication
Think you'll know right away when your computer is compromised? Wrong: in 80 percent of data breaches, it takes a matter of days or more to discover that data was disclosed.
Verizon 2016 Data Breach Investigations Report