Enhanced security, support, expertise and training – globally
Aimed at enterprise-level customers with 5,000+ employees operating in 5 or more countries – benefit from a single contract covering your security needs across multiple locations.
Financial benefits
Lower total cost of ownership
Better per-seat price compared to local agreements
Flexible licensing that reflects local needs while offering enterprise-level pricing
IT security training that applies to all your branches – allows them to share knowledge, and use the same solutions
Save up to 40% compared to your current spend on IT security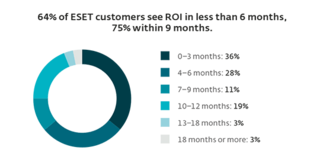 TechValidate survey of 552 users of ESET Security Solutions. Source >
Human resources
Free your staff to pursue other projects
The IT security of all your branches can be administered from a single point (instead of having IT security staff in every branch location)
Your local procurement, legal and other units need not spend time on IT-security related matters
Training is simplified, with a single vendor providing unified, coherent tuition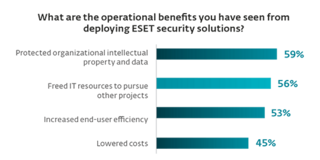 TechValidate survey of 1213 users of ESET Security Solutions. Source >
Support & management
The same level of support is provided by ESET to all your branches included in the Global Enterprise Agreement
ESET support is provided in 33 languages, depending on local requirements in each location
Simultaneous early warning – when targeted threats are detected, all your enrolled branches are informed immediately
Role-based remote management – security policies are enforced globally, while reflecting the specific needs of local teams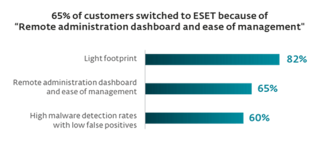 TechValidate survey of 1,034 users of ESET Security Solutions. Sample composed of customers who switched to ESET from Trend Micro, Symantec, McAfee, Kaspersky or Sophos. Source >
The biggest thing that stands out is its strong technical advantage over other products in the marketplace. ESET offers us reliable security — I can work on any project at any time knowing our computers are protected 100%

– Fiona Garland,
Business Analyst, Group IT, Mercury Engineering, Ireland
As an IT I've been worry-free since the first time we used it and I'm still worry-free now. It has made my life as an IT much easier.

– Thony Avestruz, Jr.,
Senior Technical Support Engineer, Honda Philippines, Inc.
Since the installation of ESET, we've seen virtually no performance issues, and more CPU time is now available to applications and users on servers.

– Christian Jandl,
System Engineer, Spar, Austria

Products and services
All ESET business products and services are eligible for inclusion in the Global Enterprise Agreement.

Whether it is endpoint antivirus and security, mobile and tablet security, or file, mail and gateway security – you can mix and match ESET products according to your current needs and manage them via ESET Remote Administrator.

Technical support
Tier 1 technical support is offered for free within business hours, in your local language.

In addition to this, it is possible to choose ESET Premium Support , which guarantees 365/24/7 support provided directly by ESET technical experts, including assistance with major upgrades, service pack installations and migrations.
Premium support

Pricing
Pricing will reflect your individual needs, network size and ongoing branch enrollment.

The first year of the Global Enterprise Agreement is a consolidation year that allows your branches to enroll as existing contracts expire.
---