What will you learn?
Retail and the evolving threats to data and payments
Which cybersecurity risks have grown and which have newly opened under retailers' feet in the industry's constant quest to survive and thrive.


E-commerce cybercrime: treasure trove of credit cards for the taking
From payment apps to digital wallets and website plugins, the e-commerce era has opened new digital channels for cybercriminal gangs to steal money.


IIStealer: jeopardizing the trust relationship between online seller and buyers
All the network communication flowing through a server infested by malicious extension IIStealer is open to the purview of the attackers, including passwords, usernames, and payment information from e-commerce transactions.


Regulatory radar: data protection and payment card standards
Privacy legislation is an enduring concern for businesses in 2022 due to the risks related to the technical implementation of industry standards and regulatory obligations.


Deeper look at server security solutions
Taking a proactive approach by installing a server security solution helps businesses protect their central servers from threats.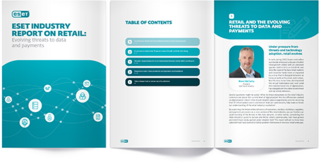 About ESET
For more than 30 years, ESET® has been developing industry-leading IT security software and services to protect businesses, critical infrastructure and consumers worldwide from increasingly sophisticated digital threats. From endpoint and mobile security to endpoint detection and response, as well as encryption and multifactor authentication, ESET's high-performing, easy-to-use solutions unobtrusively protect and monitor 24/7, updating defenses in real time to keep users safe and businesses running without interruption. Evolving threats require an evolving IT security company that enables the safe use of technology. This is backed by ESET's R&D centers worldwide, working in support of our shared future.