Along with history, opportunity can also repeat itself. During the late 1990's and into the 2000's, the IT sector seized upon the Managed Service Provider (MSP) business model in the world's leading economies to enable and support the rapid digitization of business processes. Now, nearly twenty years later, with externally managed IT service provision maturing globally, the largest remaining opportunities must include offering specialist capacity. In this case, the ability to mitigate threats to business continuity and function.
That opportunity is reflected in the deepening trend of MSPs moving to deploy scalable, customized security solutions. In most markets, this has become critical to becoming a market leader on an increasingly competitive landscape.

Are the opportunities as real as the threats?
Recent history has demonstrated that this evolution is not a fluke. The full spectrum of global businesses witnessed the dramatic rise in both the complexity and impact of cyberthreats, threats which had the potential to severely disrupt business continuity, regardless of their targeting.

Malware like WannaCry and (Not)Petya, along with exploits like EternalBlue have convinced businesses of all sizes that cybersecurity is a key business process that needs to be managed well. The knock-on effect is that MSPs have intensified their own emphasis on the essential role of cybersecurity amidst managed IT service operations.

Over the last several years the we've seen increasing integration of endpoint security platforms with MSP admin dashboards. ESET's own Direct Endpoint Management (DEM) plugins for ConnectWise Automate, Autotask, and Solarwinds are a great example of this, with their easy integration, high performance, low system impact. Most recently we've added full disk encryption some of our plugins.

ESET's road to supporting MSPs and MSSPs
Looking in the rearview mirror is 20/20 vision, as some in MSP space and among cybersecurity vendors wonder if this need/opportunity should have been anticipated earlier, the need for third party management of security technology. For ESET, the business rationale to support managed service providers resulted from demand among our partners who were keen on joining the MSP fray, and building competitive advantage in their markets.

Our interest -to provide solutions in this area- was then propelled by the persistent global inquiries of MSPs, who wanted to leverage our powerful and easy to use endpoint security technology on behalf of their clients.

And as the complexity of threats facing businesses intensified, ESET, already working to simplify the administration of its remote administration dashboard, began to understand that innovations in malware would ultimately outstrip the ability of all but the most dedicated and well-funded IT desks and IS teams. It was for this purpose we developed the first version of our Managed Service Provider Administrator. This allowed MSP partners to take advantage of volume pricing, daily billing, monthly invoicing and enabled a clear overview of license numbers via detailed reporting.

By 2015 we had also moved to support smaller MSPs to leverage our technology providing support with product briefings, trainings, certifications, local technical and premium support.

Our success, largely measured in the NORAM and EMEA markets proved very tangible. In EMEA, the number of our MSP partners grew from 500+ in 2015 to roughly 1700 by 2017. This represents growth of 340% in 2 years.

Security services provision demands fuel growth in supply
To satisfy growing and thirsty MSPs and the full diversity of their clients' needs, ESET has continued to assemble a host of powerful tools from its endpoint security suite and make them available cross platform (Windows, Linux, Android, iOS) via our MSP Administrator portal/dashboard. With tools like endpoint protection, server protection, mail protection, and the soon to be integrated – endpoint encryption, our MSP partners are now even better armed to realize profits and provide sustainable security for clients.

As mentioned earlier, choices for MSPs are best represented by our Direct Endpoint Management Plugins, which allow MSPs to entirely bypass our powerful, albeit more complex ESET Security Management Center platform. The DEMs also allow MSPs already running popular administrative dashboards to maintain focus on their business processes instead of dedicating capacity to learning and setup of new technology. Again, we aim to help our MSP partners improve their business results via the best use of our tech and their capacity.

Evolve or die?
With cybersecurity so central to business continuity, we believe MSPs should be asking themselves whether or not there is really a choice in providing security services for clients. While ESET can't define this issue for your MSP, moving forward it is clear that security concerns will continue to make inroads with respect to the needs expressed by present and future clients of MSPs.

Defining what types of additional capacities are necessary to introduce, in moving towards becoming MSSPs is a first step. We've laid out a few of the resources ESET can provide to enable this transformation, boost revenue and future proof your business. Here, we've discussed several innovations that can help start, or accelerate this process, including the DEM plugins for popular MSP dashboards and updates to ESET MSP Administrator dashboard that make this very straightforward.

The success of our MSP program is rooted in ESET providing high performing endpoint solutions, with low system impact and great coverage. Backed by our awarded Endpoint Security suite, its multi-layered technology and its machine learning driven scanning, the security we provide to our 4000+ MSP partners are a testament to the commitment we've shown and the increased investments we are making in this area in 2018 and beyond.

For more information on ESET's great MSP program or the tech involved: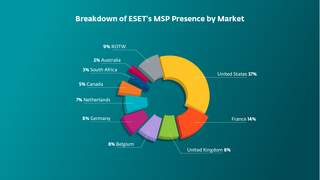 At 37% of the total, the majority of ESET's MSP partners are in the US. The western European markets of France, the United Kingdom, Belgium, Germany and the Netherlands close out the top 5 in the EU.

Speaking on the ESET plugin for Autotask Endpoint Management, Matthé Smit, Director of Product Management and Endpoint Management, Datto said, "ESET has raised the bar on what is possible with AEM plugins. We were impressed while working with them on their level of knowledge on AEM and how they were able to translate that to user benefits. They've put in a lot of effort to make sure users of ESET and AEM can now have a more efficient support and security management process when using these solutions in combination."

With more to come, our MSP program is raising the bar for service provision, ease-of-use and accessibility to those -MSPs- that want to make the jump to the next level. Read more on our dedicated MSP page, register on our partner portal, or contact us directly to see how we can cooperate. Successfully onboarded partners will have access to discounts, and technical training courses, and marketing materials.

Like what you see? Go straight to our MSP page.