ESET Endpoint Protection Advanced

Multilayered technology, machine learning and human expertise combined with automated security management. Provides:
Protection against targeted attacks
Protection against ransomware
Prevention of fileless attacks
---
Bundled solution includes following products:
ESET's endpoint protection solutions leverage multilayered technologies in dynamic equilibrium to constantly balance performance, detection and false positives.
Provides advanced protection to all network file storage, general servers and multi-purpose servers. Ensures servers are stable and conflict-free. Limits restarts and maintenance windows to a minimum to guarantee business continuity.
Manage products via on-premise console
ESET Security Management Center is an easy to use management console. It provides real-time visibility for on-premise and off premise endpoints as well as full reporting for ESET solutions on all OSes. All these features are managed from one single pane of glass.
Complete network visibility
Full security management
Flexible reporting
Automated security management
Comply with data protection regulations with remotely manageable ESET Full Disk Encryption add-on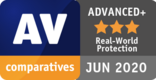 Outstanding results of ESET Endpoint Security solution in the recent Real-World Protection Test

ESET achieves highest score in SE Labs test in Q1 2020

ESET recognised for peak excellence in the category of usability in the AV Test annual test results

ESET achieved the highest final score in the latest VBSpam test
ESET ENDPOINT PROTECTION ADVANCED
Make an enquiry
Leave us your contact details to receive an offer tailored for your company´s needs.
Try before you buy
Experience ESET products for 30 days with a free trial, to make sure they suit your needs. No commitment.
ESET was just what we were looking for – light processing power, reliable protection and cost scalable, yet easy to deploy and manage centrally.
- Richard Ford, Head of IT at SWFC
Looking for more?
Upgrade to full-service protection

As well as protecting all your computers, laptops, and fileservers, make your email gateway impenetrable. ESET mail security eliminates email-borne malware at the server level, before it can do any damage.
On-premise management
Endpoint security
File server security
Mail security
Add data access protection
Stay on top of cybersecurity news
Brought to you by awarded and recognized security researchers from ESET's 13 global R&D centers.
We Live Security blog
The holiday shopping season may be the time to splurge, but it's a also favorite time of year for cybercriminals to target shoppers with phony deals, phishing scams and other threats
ESET's research team reveals details about the onboarding process of the Telekopye scam operation and the various methods that the fraudsters use to defraud people online