ESET Endpoint Protection Standard Cloud

Keep your network clean. Protect your endpoints (computers and file server) against threats and data theft with easy to use cloud-based security management. Benefit from:
Light footprint on endpoints
Reliable antimalware protection
Prevention of fake websites
Cloud-based remote management
---
Bundled solution includes following products:
Endpoint antimalware
Robust multi-platform antimalware protection. Our award-winning anti-phishing engine protects sensitive company information, such as usernames and passwords, against fake websites. Other advanced technologies inside include cloud-powered scanning and device control.
Provides advanced protection to all network file storage, general servers and multi-purpose servers. Ensures servers are stable and conflict-free. Limits restarts and maintenance windows to a minimum to guarantee business continuity.
Explore our customized solutions
Please leave us your contact details so we can design a personalized offer to fit your requirements.
No commitment.
Looking for more?
Upgrade - protection against ransomware


ESET Endpoint Protection Advanced Cloud
Multilayered technology, machine learning and human expertise combined to incorporate the best level of protection, with simple-to-use cloud-based security management.
Cloud-based management
Endpoint security
File server security
Add data access protection
Stay on top of cybersecurity news
Brought to you by awarded and recognized security researchers from ESET's 13 global R&D centers.
Corporate blog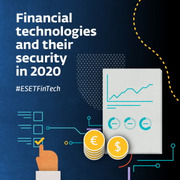 ESET surveyed over 10,000 consumers and senior business leaders across the UK, US, Australia, Japan, Mexico and Brazil, this investigating experiences of FinTech, future predictions, cybersecurity...