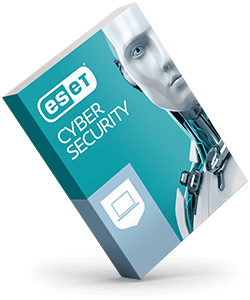 Reliable protection without slowdowns
ESET Cyber Security is light on your computer's resources so you can enjoy watching videos or looking at photos without interruptions.
Full feature trial. No credit card, no commitment.
Comprehensive security and privacy online


Protect your online world
Protects you against all types of malware, including viruses, ransomware, worms and spyware.


Light on computer resources
Enjoy the full power of your computer. Play, work and browse the internet without slowdowns.


Uninterrupted videos and presentations
No system updates or annoying pop-ups while you run a program in full-screen mode.

Legendary antivirus technology
Protect yourself from ransomware and other types of malware with ESET's time-proven multilayered protection, trusted by over 110 million users worldwide.


Minimal power usage
Play, work and browse the internet without slowdowns. Stay unplugged and online longer with battery-saving mode, and enjoy gaming without distracting pop-ups.


Install and forget
Easy to install, renew and upgrade, our security is also designed for simple set up of all routine tasks. If you want, fine-tune your profile with 150 detailed settings.

Transfer your license

ESET Cyber Security license can be transferred to Windows or Linux operating systems.
*One license for all devices
ESET Cyber Security Pro license will also activate our top-of-the line Windows, Android and Linux products. The full set of available features will vary depending on the operating system to be protected.
macOS Big Sur is coming and we plan to be ready!
We're doing everything to make our products for Mac available and fully functional for macOS Big Sur. Please be aware that some users can experience initial issues – we know about these and are addressing them. We're working on the update of our products for Mac to ensure you're protected if you choose to update your macOS.
Click here for updates and more information
Get all-round internet security today
ESET CYBER SECURITY
Essential protection for your Mac against malware and phishing
System requirements & documentation
System requirements
MAC
macOS 10.15 (Catalina), macOS 10.14 (Mojave), macOS 10.13 (High Sierra), macOS 10.12.x (Sierra), OS X 10.11.x (El Capitan), OS X 10.10.x (Yosemite), OS X 10.9.x (Mavericks)
WINDOWS
Microsoft Windows® 10, 8.1, 8, 7 with SP1 and latest KB updates installed
LINUX
Debian, RedHat, Ubuntu, OpenSuSe, Fedora, Mandriva and a majority of RPM and DEB distributions
Trusted by consumers and businesses alike