For maximum cybersecurity assurance,
trust deployment and upgrades to ESET

ESET Deployment & Upgrade is designed to optimize your cybersecurity solutions—strengthening business continuity and simplifying product use and navigation.
This service maximizes and maintains the functionality of newly-purchased ESET business products. It delivers enhanced user experience for all business customers—helping you achieve the highest level of operational efficiency, fine-tuned for your environment.
Optimized resource allocation
Make the most of your resources. This service ensures that your ESET products are up-to-date, while reducing the need for additional labor and resources. It improves user experience by streamlining product deployment, maintenance and navigation.
Worry-free implementation

ESET experts provide end-to-end installation and initial configuration of newly-purchased ESET products. Smooth setup and integration ensure the efficiency of your security controls and eliminate issues down the line. This service may also update and configure previously-deployed ESET products.
Enhanced detection and remediation
Upgrades boost threat detection and remediation capabilities, and enable our robust technology, such as ESET Inspect, to best identify critical threats and security incidents.
Cyber insurance
As an authorized vendor, ESET security management solutions and services assist organizations in satisfying regulatory standards and insurance criteria.
Extensive customer support
ESET offers comprehensive customer support to address your security incidents, inquiries and concerns. Get help 24/7/365 with our Premium Support Service.

protected by ESET since 2017
more than 9,000 endpoints

protected by ESET since 2016
more than 4,000 mailboxes

protected by ESET since 2016
more than 32,000 endpoints

ISP security partner since 2008
2 milion customer base
Explore our solutions
Deployment and Upgrade can be purchased as a part of the service solutions.
ESET PROTECT MDR
Combining the skills of ESET's world-class security research teams with the cutting-edge technology of ESET's IT security products.
Guaranteed, fast response times
Business continuity ensured
Skilled ESET personnel to manage your security
Deployment and Upgrade can be used for these products
ESET Endpoint Solutions for Windows, Mac, Linux, and Android
ESET Inspect
ESET Server Security for Microsoft Windows Server
ESET Mail Security for Microsoft Exchange Server
ESET Security for Microsoft SharePoint Server
ESET Secure Authentication
ESET Full Disk Encryption
ESET Endpoint Encryption
ESET Cloud Office Security
ESET LiveGuard Advanced
ESET PROTECT
ESET PROTECT Cloud
Committed to the highest industry standards

ESET is one of the very few vendors who have shaped the industry in 2022 According to IDC, ESET is one of the very few vendors who have shaped the industry in 2022 thanks to its industry longevity, technical prowess, research excellence and financial stability.
ESET is a 'Top Player' in Advanced Persistent Threat protection ESET has been recognized as a 'Top Player' for the fourth year in a row in Radicati's 2023 Advanced Persistent Threat Market Quadrant



ESET is appreciated by customers worldwide




ESET is recognized for over 700 reviews collected on Gartner Peer Insights © 2022 Gartner, Inc. Gartner® and Peer Insights™ are trademarks of Gartner, Inc. and/or its affiliates. All rights reserved. Gartner Peer Insights content consists of the opinions of individual end users based on their own experiences, and should not be construed as statements of fact, nor do they represent the views of Gartner or its affiliates. Gartner does not endorse any vendor, product or service depicted in this content nor makes any warranties, expressed or implied, with respect to this content, about its accuracy or completeness, including any warranties of merchantability or fitness for a particular purpose.
What customers appreciate
Stay on top of cybersecurity news
Brought to you by awarded and recognized security researchers from ESET's 13 global R&D centers.
Corporate blog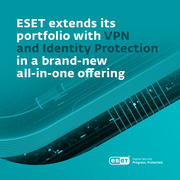 As digitalization penetrates even deeper into lives across the globe, so does the everyday reality of cyber threats. Email accounts, data on laptops, mobile apps, and even your personal identity have...
We Live Security blog
Several cases of children creating indecent images of other children using AI software add to the worries about harmful uses of AI technology
Failing to practice what you preach, especially when you are a juicy target for bad actors, creates a situation fraught with considerable risk