ESET Threat Hunting Service

ESET Threat Hunting helps your IT teams investigate specific sets of data, events and alarms generated by ESET's XDR-enabling solution, ESET Inspect.
By leveraging ESET's 30 years of cutting-edge malware identification and incident response expertise, ESET Threat Hunting allows you to conduct full forensic investigations without the need for your own dedicated staff or resources.
ESET's record of innovation and top performance support provides higher confidence that you will identify emerging threats like ransomware before they can harm your organization.
---
Expertise
The world's best professional support – backed by ESET's teams of renowned researchers, operating across the globe – is available 24/7/365 to address your IT security needs and issues.
Global and local

ESET is a global company with a local presence. It has a large network of partners and regional offices working with its main malware research team at ESET HQ.
Resources

By pinpointing significant events and data flows, helps your security teams and administrators prioritize real threats and streamline their workload accordingly. Observe a clear return on your investment.
Business continuity
ESET products are designed to be intuitive, and come with comprehensive documentation. Still, having ESET expertise on hand reduces the risk of any downtime or gaps in vital operations.

protected by ESET since 2017
more than 9,000 endpoints

protected by ESET since 2016
more than 4,000 mailboxes

protected by ESET since 2016
more than 32,000 endpoints

ISP security partner since 2008
2 milion customer base
Explore our solutions
Threat Hunting can be purchased as a part of the service solution.
ESET PROTECT MDR
Combining the skills of ESET's world-class security research teams and the cutting-edge technology of ESET's IT security products.
Guaranteed, fast response times
Business continuity ensured
Skilled ESET personnel to manage your security
Committed to the highest industry standards
What customers appreciate
Stay on top of cybersecurity news
Brought to you by respected security researchers from ESET's 13 global R&D centers.
Corporate blog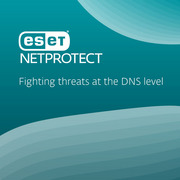 The DNS, the internet's address book, has long been plagued by malicious domains with little hope for effective recourse against this abuse by its bookkeepers: the registrars. ESET brings its...
We Live Security blog
Don't worry, elections are safe. Our Security Researcher Cameron Camp provide us highlights from the DEF CON 30 conference.
The post DEF CON – "don't worry, the elections are safe" edition appeared...
The Sender Policy Framework can't help prevent spam and phishing if you allow billions of IP addresses to send as your domain
The post How a spoofed email passed the SPF check and landed in my inbox...