ESET Virtualization Security

Performs agentless anti-malware scanning of machines using VMware infrastructure or another virtualization solution, which keeps your devices secured in all environments, including NSX and vShield platforms.





---
Fully automated VDI support
A comprehensive hardware detection algorithm is used to determine the identity of the machine based on its hardware. This allows automated re-imaging and cloning of non-persistent hardware environments.
No AV storms
All on-access and on-demand scanning tasks are offloaded via VMware tools to a centralized scanner inside the ESET Virtualization Security appliance, effectively preventing AV storms and performance issues.
Use cases
PROBLEM
Non-persistent hardware environments typically require manual interaction from an IT department or create reporting and visibility nightmares.
SOLUTION
After deploying a master image to computers already present in ESET Security Management Center, computers will continue reporting to the previous instance despite a complete re-image of the system.
Machines that after the end of a work shift return back to their initial state will not cause duplicate machines and instead will be matched into one record.
On deployment of non-persistent images, you can create an image that includes the agent, then whenever a new machine is created with another hardware fingerprint, it automatically will create new records in ESET Security Management Center.

protected by ESET since 2017
more than 9,000 endpoints

protected by ESET since 2016
more than 32,000 endpoints
The ESET difference
Native support of NSX automation
Supports Micro Segmentation and automatic task execution that automatically moves infected machines to a different micro segment, to prevent malware spread, and executes scanning. Once a machine is proven clean, it is returned to the original place.
vMotion supported
When VMs are moved from one host to a different one, where ESET Virtualization is installed, the VM keeps its security settings and remains them fully protected.
Optimized for high performance
ESET's scanning engine is well-known for its low system demands and high speed, thus leaving more resources for other applications and processes. In combination with the support of vMotion optimum performance from the whole virtual environment is ensured.
Easy deployment
Once ESET Security Management Center – which comes as a virtual appliance too – is installed, ESET Virtualization Security appliances can be deployed on multiple hosts at once.
3rd party integration
ESET Virtualization Security supports native integration with 3rd party security solutions, using VMware Service Composer.
vCenter supported
The information displayed in ESET Security Management Center is the same as in the vCenter. It also simplifies deployment, as all components can be deployed using a tool which connects to the VMware vCenter.
Remote management
The solution is manageable via ESET Security Management Center. Physical and virtual machines are managed from a single point, allowing a role-based administration and a "look & see" web-console dashboard with drill-down capabilities that can be used to execute any action that is required.
Low system demands
All on-access and on-demand scanning tasks are offloaded via VMware tools to a centralized scanner inside ESET Virtualization Security Appliance, effectively preventing AV storms and performance issues.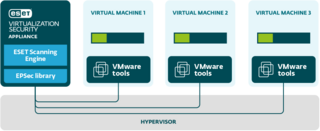 ESET VIRTUALIZATION SECURITY
FOR VMWARE
Purchase this product as a bundle component of ESET Endpoint Protection Advanced at the same price as the individual product.
Make an enquiry
Leave us your contact details to receive an offer tailored for your company´s needs.
Try before you buy
Why not download a free trial license with absolutely no commitment on your side.
Virtual appliance compatible with VMware vSphere 5.5, 6.0, 6.5 VMware NSX 6.2.4, 6.3
Looking for the complete security of your network?
Related enterprise-grade solutions

Security Management Center
Endpoint Protection Platform
Cloud Sandbox Analysis
Multilayered protection utilizing multiple technologies and incorporating visibility management and reporting across all operating systems. Includes:
Security Management Center
Endpoint Protection Platform
Related products and services
Stay on top of cybersecurity news
Brought to you by awarded and recognized security researchers from ESET's 13 global R&D centers.
Corporate blog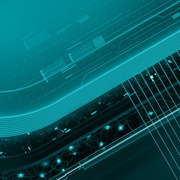 The plugin tracks license usage, creates billing adjustments, monitors dynamic groups from the ESET PROTECT Server, and automatically creates tickets within the PSA software.
We Live Security blog
The technology is both widely available and well developed, hence it's also poised to proliferate – especially in the hands of those wishing ill
While it may be too late to introduce wholesale changes to your security policies, it doesn't hurt to take a fresh look at where the biggest threats are and which best practices can help neutralize...