In today's digital landscape, organizations face a multitude of cyber threats, alert overload, and a shortage of cybersecurity skills. These challenges have fueled the continuous evolution and growth of the Managed Detection & Response (MDR) market.
Adopting MDR enables organizations to ensure round-the-clock monitoring of their IT assets and effectively manage large volumes of alerts in complex business IT environments. What sets MDR apart is its proactive approach to continually improve cybersecurity posture, surpassing traditional Managed Security Services and strengthening organizations' resilience against evolving threats.
KuppingerCole offers a comprehensive comparison of MDR providers based on standardized criteria in the categories of Product, Innovation, and Market position. This report highlights the Overall leaders among MDR providers, and we are proud to share that ESET has been recognized as both a MARKET LEADER and OVERALL LEADER in the 2023 MDR Leadership Compass.
KuppingerCole's rating of ESET
| | |
| --- | --- |
| Innovativeness | Positive |
| Market Position | Strong Positive |
| Financial Strength | Strong Positive |
| Ecosystem | Strong Positive |
Overall evaluation of ESET PROTECT MDR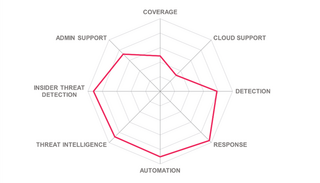 Highlights from ESET PROTECT MDR evaluation


Scalability and simple pricing model
With its straightforward and bundled pricing model, ESET PROTECT MDR is suitable for organizations of all sizes, particularly mid-size organizations seeking to maximize ROI and fully outsource security operations
Tailor-made MDR service
ESET's customized services will meet the unique needs of various organizations, ensuring that their specific requirements are addressed effectively
Flexible deployment options
Versatile deployment options of ESET PROTECT MDR are allowing organizations to choose the most suitable approach for their infrastructure, whether it's cloud-based, on-premises, or a hybrid model
Automated containment
Wide range of automated containment actions of ESET PROTECT MDR empower organizations to swiftly respond to and mitigate potential threats without manual intervention
Rich threat intelligence
ESET is recognized as a trustworthy European supplier of comprehensive threat intelligence data, equipping organizations with valuable insights to proactively defend against emerging threats
Exceptional local language support
ESET provides excellent support for services and documentation in multiple languages
Open API for interoperability with third-party solutions
ESET PROTECT MDR enables smooth interoperability with third-party solutions, fostering a cohesive security ecosystem
Good detection capability for insider threats
ESET PROTECT MDR is tailored to identify and address insider threats, helping organizations safeguard against internal risks and breaches
---
Follow the story of Royal Swinkels family brewers and find out how your organization may benefit from adopting a Managed Detection & Response solution by ESET.
About the report
The KuppingerCole Leadership Compass provides an overview of the market for Managed Detection & Response services that manage a collection of cybersecurity technologies for a client organization to provide advanced cyber threat detection and response capabilities, including Security Operations Center as a Service (SOCaaS) offerings.
Meet ESET
For more than 30 years, ESET® has been developing industry-leading IT security software and services to deliver comprehensive, multilayered protection against cybersecurity threats for businesses and consumers worldwide. ESET has long pioneered machine learning and cloud technologies that prevent, detect, and respond to malware. ESET is a privately owned company that promotes scientific research and development worldwide.
internet users protected by ESET technology
business customers in 195 countries and territories