Comprehensive security solution for all business sizes
ESET PROTECT Complete components
Manage your endpoints wherever you are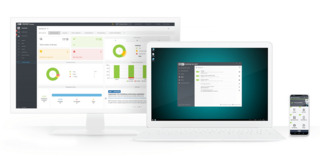 Experience the console's full potential right now.
No need to install or set up anything.
What IT pros are saying
Based on customer reviews, through G2 Crowd surveys that asked ESET business customers to rate their experiences using ESET Endpoint Security.
Try before you buy
Try out the ESET PROTECT platform in action


One click access to interactive Demo
No installation needed
Cloud Management in full force
Full 30-day free trial


Create an account and try full license, no commitment
Install and deploy our protection solutions
Experience light footprint on your systems
Get full 30-day license of ESET Protect Advanced.
To get a trial license for Cloud Application Protection
and Mail Security, please contact sales.
Contact Sales
Are you interested in additional discounts or higher quantities?
Leave us your contact details to receive an offer tailored for your company's needs.
No commitment.

protected by ESET since 2017
more than 9,000 endpoints

protected by ESET since 2016
more than 4,000 mailboxes

protected by ESET since 2016
more than 14,000 endpoints

ISP security partner since 2008
2 milion customer base
System requirements and license information
ESET PROTECT Complete
Supported operating systems
Microsoft Windows 10, 8.1, 8, 7
macOS 10.12 and later
Ubuntu Desktop 18.04 LTS 64-bit and RedHat Enterprise Linux (RHEL) Desktop 7 64-bit
For smartphones and tablets
Android 5 (Lollipop) and later
iOS 8 and later
Microsoft Windows Server 2019, 2016, 2012, 2008
Microsoft Windows Storage Server 2016, 2012, 2008
Microsoft Windows MultiPoint Server 2012, 2011, 2010
Microsoft Windows Small Business Server 2011
RedHat Enterprise Linux (RHEL) 7 64-bit
CentOS 7 64-bit
Ubuntu Server 16.04 LTS 64-bit, 18.04 LTS 64-bit
Debian 9 64-bit
SUSE Linux Enterprise Server (SLES) 12 64-bit, 15 64-bit
Microsoft Exchange Server 2019, 2016, 2013, 2010, 2007
Microsoft Small Business Server 2011
Linux – Kernel version 2.6.x or higher
glibc 2.3.6 or higher
FreeBSD – Version 6.x, 7.x, 8.x & 9.x
IBM Domino 6.5.4 and newer
VMware vSphere 6.0, 6.5+, 6.7+ (vCenter Single Sign-On, vSphere Client/Web Client, vCenter Server, vCenter Inventory Service)
VMware NSX Manager 6.3+, 6.4.0, 6.4.1, 6.4.2
VMware Guest Introspection 6.2.4+, 6.3+, 6.4+
For cloud applications protection
Subscription for Microsoft 365 to connect with the tenant (Exchange Online, OneDrive)
Cloud and on-premise management included
Remote management platform is available as cloud-based or on-premises deployment. No need to buy or maintain additional hardware, reducing the total cost of ownership.
Mix and match your licenses as needed
ESET Unilicense covers all the bases, allowing you to mix and match endpoint protection without wasting a single license.
Add additional devices at any time
You can purchase licenses for additional computers, laptops, mobile devices and servers any time.
Transfer a license to another computer
You can transfer a valid ESET license to a completely new computer from the original one. In addition, you can switch from one OS to another.
Switch to a different platform at any time
It's easy to switch your protection from one platform to another at any point during the license term without having to purchase additional licenses.
Related resources and documents

Looking for more security options?

Not sure what solution is best for your business?
Are you an existing customer?