Get the right level of protection tailored to your needs
Protect your organization against ransomware, phishing, zero-day threats and targeted attacks with our cloud-based ESET PROTECT platform. Enjoy automated, all-in-one defense—from endpoints to other potential threat vectors, including mobiles, email, web and cloud apps.
Additional Solutions
Advanced protection for cloud email, collaboration and storage, with proactive threat defense.
Antimalware

Antispam

Anti-Phishing

Advanced Threat Defense

Cloud-Based Console

Exchange Online, OneDrive, Teams, SharePoint Online, Gmail, Google Drive protection
Powerful two-factor authentication for safe access to networks and data.
Prevent data breaches
Meet compliance requirements
Manage centrally from your browser
Use your phone, or HW tokens
Advanced protection for SharePoint servers
Protection against ransomware
Data breaches prevention
Zero-day threats detection
File-less attacks prevention
Simple and powerful encryption for organizations of all sizes.
Full disk encryption
Removable media encryption
File & folder encryption
Virtual disks & encrypted archives
Centralized management compatible
Multilayered email protection with zero-day threat defense.
Console
Advanced Threat Defense
Mail Security
ESET PROTECT MDR
Combining the skills of ESET's world-class security research teams with the cutting-edge technology of ESET's IT security products.
Guaranteed, fast response times
Business continuity ensured
Skilled ESET personnel to manage your security
Premium Support
Get prompt assistance from ESET at any hour of the day or night, including weekends and public holidays.
ESET experts will help set up your ESET products to minimize potential issues down the line
Pain-free security—get fast, guaranteed responses
Always available—get support 24/7/365
Award-winning, cloud-first XDR cybersecurity platform that combines next-gen prevention, detection and proactive threat hunting capabilities.
ANSWER A FEW QUESTIONS AND FIND YOUR IDEAL SECURITY SOLUTION.

Let us help you find the right solution
STEP 1 OF 5
What is your current role?
Manage your endpoints wherever you are
ESET PROTECT console is the unified cybersecurity platform interface for ESET solutions across all operating systems in your network, available as cloud or on-premises deployment. Learn more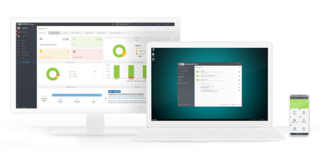 Experience the console's full potential right now.
No need to install or set up anything.
Committed to the highest industry standards
Appreciated by customers worldwide
Meet ESET
We are a leading digital security provider with unmatched prevention-first technology. We identify and neutralize zero-day threats, ransomware and targeted attacks before they can be executed, providing unparalleled protection against advanced cybercrime.
internet users protected by ESET technology
Research & Development centers worldwide
business customers in nearly 200 countries and territories
Resources and related documents
Useful resources
Cybersecurity Trends in 2020
Remote Access Security checklist for every IT manager
Cybersecurity training – video
Data protection for dummies
Useful links
Learn more on:
Passwords
Ransomware
Illicit cryptomining
Encryption
Social Engineering
Stay on top of cybersecurity news
Brought to you by awarded and recognized security researchers from ESET's 13 global R&D centers.
We Live Security blog
Several cases of children creating indecent images of other children using AI software add to the worries about harmful uses of AI technology
Failing to practice what you preach, especially when you are a juicy target for bad actors, creates a situation fraught with considerable risk