ESET Mail Security for IBM Domino

Additional layer of real-time email protection against targeted attacks, phishing and malware. Complements ESET's overlapping layers of protection with:








---
Proprietary technology
ESET Mail Security solutions use in-house developed antispam, anti-phishing and host server protection, combining machine learning, big data and human expertise into one award-winning mail security platform.
Flexible and scalable
ESET Mail Security enables component-based installation, providing admin with an opportunity to select only a certain component of the solution. It also allows exclusion of specific objects or processes from on-access scanning, minimizing interference with the process to improve backup speed and process integrity.
PROBLEM
Users are constantly targeted via phishing campaigns that may contain other malicious components.
SOLUTION

Early warning system such as ESET Threat Intelligence notifies about a phishing campaign.
Rules can be implemented in ESET Mail Security to prevent emails from being received from known malicious countries and domains.
ESET Mail Security uses a sophisticated parser that searches both the message body and subject line to identify malicious links.
Any email containing malicious files or links is quarantined and prevented from being received by the users.


protected by ESET since 2011
license prolonged 3x, enlarged 2x


protected by ESET since 2016
more than 14,000 endpoints
The ESET difference
Antispam
Our award-winning proprietary engine prevents spam from ever reaching your users' mailboxes. Includes SPF and DKIM validation, backscatter protection and SMTP protection.
Antimalware
Our second layer of protection built into ESET Mail Security provides detection of suspicious or malicious attachments to prevent users from being infected.
Anti-phishing protection
Prevents users from accessing web pages known for phishing by parsing email subject lines and content to identify URLs. URLs are then compared against the phishing database and rules to decide whether they are malicious.
On-demand database scan
On-demand database scanner provides option to choose the targets to scan. Also, you can use the scheduler to run the database scan at a specific time or at an event.
Rules
ESET's comprehensive rule system allows administrators to manually define email filtering conditions and actions to take with filtered emails.
Mail quarantine manager
Admin can inspect objects in this special IBM Domino database and decide to delete or release them. This feature offers simple management of emails quarantined by the transport agent.
ESET MAIL SECURITY
FOR IBM DOMINO
Get started
We'll design a personalized offer to fit your requirements.
Or, you can purchase this product online as part of ESET security bundles. Learn more
Try before you buy
Experience ESET products including ESET Full Disk Encryption for 30 days with a free trial, to make sure they suit your needs. All you need is ESET Business Account.
Looking for additional solutions?
Related enterprise-grade solutions


Security Management Center
Endpoint Protection Platform
Cloud Sandbox Analysis
Endpoint Detection & Response
Related products and services
Stay on top of cybersecurity news
Brought to you by respected security researchers from ESET's 13 global R&D centers.
Corporate blog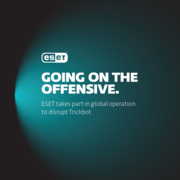 Every time a critical piece of botnet infrastructure is "shot down," thousands of machines are liberated from oppression by their cruel botnet masters.