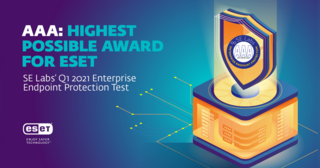 ESET, a global leader in cybersecurity, has earned the highest possible award in SE Labs' Q1 2021 Enterprise Endpoint Protection test, the AAA award, for ESET Endpoint Security. ESET has claimed the AAA award for the third time, following recognition from SE Labs in both Q1 and Q3 of 2020.

A leading independent testing company, SE Labs aims to improve information technology security by assessing products and services designed to detect attacks and protect against intrusions. SE Labs tested 9 endpoint security solutions between January and March 2021 to evaluate product efficacy at detecting and protecting against threats in real time. ESET Endpoint Security received a total accuracy rating of 1,116, along with the second highest total accuracy percentage of 99%.

ESET Endpoint Security is designed to protect endpoints using multiple layers of protection, including Advanced Machine Learning, Host-based Intrusion Prevention System (HIPS), Exploit Blocker, Advanced Memory Scanner, and UEFI Scanner. In testing, the solution was exposed to a mixture of targeted attacks and public web-based threats. The results demonstrate that ESET Endpoint Security is consistently effective at blocking malicious URLs, handling exploits, and correctly classifying legitimate applications and websites.

Jiri Kropáč, Head of Threat Detection Labs at ESET, commented: "We are thrilled to be recognized by SE Labs with an AAA award for the third time. The award reflects our commitment to providing enterprise customers with the absolute best in cybersecurity solutions and highlights our consistent efforts to provide robust and reliable products as the threat landscape evolves in complexity. Testing our solutions in real-world environments is crucial in confirming to users that their businesses, data, and employees are in the best possible hands when it comes to malicious actors and cyberattacks. With cybersecurity as a top priority for businesses across the globe, ESET is proud to provide organizations with cutting-edge technology of the highest quality."

You can find out more about ESET Endpoint Security here.


About ESET
For more than 30 years, ESET® has been developing industry-leading IT security software and services to protect businesses, critical infrastructure and consumers worldwide from increasingly sophisticated digital threats. From endpoint and mobile security to endpoint detection and response, as well as encryption and multifactor authentication, ESET's high-performing, easy-to-use solutions unobtrusively protect and monitor 24/7, updating defenses in real time to keep users safe and businesses running without interruption. Evolving threats require an evolving IT security company that enables the safe use of technology. This is backed by ESET's R&D centers worldwide, working in support of our shared future. For more information, visit www.eset.com or follow us on LinkedIn, Facebook, and Twitter.