ESET is the Challenger in Gartner's 2018 Magic Quadrant for endpoint protection
Key points of Gartner's report include:
Detailed analysis of the endpoint protection market including growth factors and challenges.
Unbiased, comparative evaluation of vendors in this space.
Specific criteria which assist in the selection of endpoint protection platforms.
Explore ESET's performance as Challenger. Get report
Three pillars of ESET's unique combined technology

LiveGrid®
ESET LiveGrid® is a preventative system that gathers information about threats from ESET users around the world. The LiveGrid® database contains reputation information about potential threats, detects and blocks recently introduced threats making it highly effective against rapidly changing threats.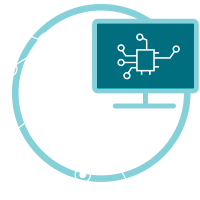 Machine Learning
ESET's in-house machine learning engine uses the combined power of neural networks (deep learning and long short-term memory) and handpicked algorithms to generate a consolidated output and correctly label incoming samples as clean, potentially unwanted or malicious.

Human Expertise
Our World-class security researchers in 13 globally distributed R&D centers share our elite know-how and intelligence to ensure the best round-the-clock threat intelligence. Read their expert analysis of cybersecurity news in our corporate blog and in welivesecurity.com.
Why enterprises appreciate our security solutions

Multi-platform solutions for all OSes

Outstanding coverage of Windows, macOS, iOS, Android, Lotus Domino & Linux


Quality technical
support

24/7 local and reliable assistance round the globe in your language


Signature light
footprint
3rd party tests prove lightweight on performance & lowest impact on network


Effortless implementation. Single pane of glass, one-click management for all products


Multilayered technology assures best detection rates and minimal false positives
---
ESET is a great product for a fair price. During the last years the ESET products protected us against a lot of viruses and other potential attacks. The support while having any issues with any product was always helpful and very friendly.
IT Network and Infrastructure in the Services Industry, annual IT budget: 1B - 3B USD
Cybersecurity experts on your side
More than 30 years of industry-leading IT security innovation.
We're a privately held company with no debts and not restricted by shareholder ROI expectations.
We have the freedom of action to do only what is best for our clients.
We serve our customers worldwide

Global Reach
Local presence in 200+ countries & territories
Offices in 22 countries
Keeping 110 million users safe and businesses running without interruption
Global Knowledge
13 Research & Development centers on 4 continents
1600+ Employees including industry leading IT security experts
Bundled solutions for enterprise
Fits all security requirements. Flexible and scalable to any IT environment

Comprehensive, easily managed protection, incorporating off-premise cloud sandboxing leveraging machine learning and behavior-based detection. Includes:
Security Management Center
Endpoint Protection Platform
Cloud Sandbox Analysis

Multilayered protection utilizing multiple technologies and incorporating visibility management and reporting across all operating systems. Includes:
Security Management Center
Endpoint Protection Platform

Business solution incorporating antispam, anti-phishing and Cloud Sandbox Analysis for the complete protection of mailboxes and mail servers. Includes:
Security Management Center
Cloud Sandbox Analysis
Mail Security

Business solution for superior and enhanced protection of an organization's data and intellectual property. Includes:
Two-factor Authentication
Endpoint Encryption
---
Multi-platform solutions for all Operation Systems
At ESET we understand enterprises have heterogeneous environments and feature parity is crucial. That's why we have outstanding coverage of different OSes - Windows, macOS, iOS, Android, Lotus Domino & Linux and customizable bundled solutions for your organization.
Cybersecurity professional services

Implementation services
Tap into the know-how of our teams to solve the unique information security challenges your business might have and ensure you are set up for success by having the solution configured properly the first time.

Security services
Our highly trained cybersecurity and threat professionals are at your disposal providing immediate response and expert training to face new, unknown or advanced threats.
Stay on top of cybersecurity news
Brought to you by awarded and recognized security researchers from ESET's 13 global R&D centers.
Corporate blog
ATT&CK imprints an efficient mapping and documentation process on people engaging in activities as diverse as ruleset creation and product functionality, on to descriptions of threats mapped to...
We Live Security blog
ESET analysis uncovers a novel technique bypassing SMS-based two-factor authentication while circumventing Google's recent SMS permissions restrictions
What are the main security concerns associated with smart buildings and why are they in the crosshairs of cybercriminals?