Price valid for the first term only. The price displayed is valid for the first term. If a savings amount is shown, it describes the difference between the first term's price and the official list price. While price is subject to change, we will always send you a notification email in advance.
Enjoy safer mobile experience with our Android security

Powerful Antivirus
Secures your device against cybersecurity issues, including viruses and trojans.

Payment Protection
Premium
Provides extra security when you use financial apps to access your money.

Proactive Anti-Theft
Premium
Helps find your lost or stolen device and protects your valuable data.
protected users worldwide
Get the completely FREE version or upgrade to PREMIUM *
Free
Enjoy these features for free, upgrade to Premium anytime.
Antivirus
Real-Time Scanning
Security Report
Activity Log
USB On-The-Go Scanner
Premium
Premium features are available 30 days for free in trial version.
All freemium features
App Lock
Anti-Phishing
Proactive Anti-Theft
Scheduled Scanning
Low Battery Alert
Automatic update of virus database
Network Inspector
Security Audit
Payment Protection
* The feature set might vary in web and Google Play version of ESET Mobile Security
ESET Mobile Security Product Features
Malware has traditionally been targeted at desktop PC operating systems. However, with the rapid growth of smartphone use across the globe, viruses, trojans and other forms of malware are now being written specifically to exploit weaknesses in mobile device operating systems.
The Best Antivirus for Android
Consistently rated as the best antivirus for smartphone users with Android devices, the ESET Mobile Security app offers an outstanding level of protection against all manner of threats, including viruses, trojans and spyware. Our powerful mobile security suite is available in both free and Premium versions and will protect your phone 24 hours a day. Install ESET Mobile Security now to:
Protect Against Malware – With smart and in-depth scanning options, malware is quickly identified and dealt with.
Block Potential Threats – Real-time scanning and anti-phishing features, along with insecure Wi-Fi network warnings, help to block potential threats before they have the opportunity to harm your phone.
Protect Your Online Privacy – With app locks, security audits and the ability to send a coded message to wipe your phone in the event it is stolen, the ESET Android security app offers industry-leading privacy protection.
Secure Your Phone's Data – All of the above-mentioned features make our app the best mobile security solution for protecting the data that is stored on your phone.
Secure Online Payments & Online Banking – The premium version of our mobile phone security app provides added protection for online banking and payments.
Track Your Phone if It Gets Stolen – In addition to real-time tracking, the proactive anti-theft functionality locks your phone down securely in the event it is stolen and enables you to delete all data if it cannot be recovered.
Despite being a fully-featured mobile phone antivirus solution, ESET Mobile Security will not slow down your smartphone. It is designed to use a minimum of resources while providing the maximum level of protection possible. Quite simply, it's the best mobile antivirus suite available for Android users today.
Antivirus for Android FAQ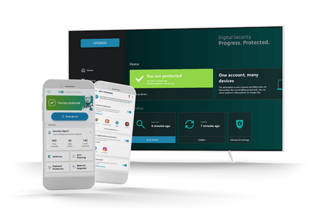 With the premium license of ESET Mobile Security, you can also activate the premium version of ESET Smart TV Security as long as it was purchased through Google Play and both devices are associated with the same Google account.
---
Manage and maximize your digital security with ESET HOME
Download or renew your licenses or add new devices from one place

Download the right protection for your operating system. Add extra seats to your license when necessary.

Remotely check your overall protection status Monitor the security status of your devices in real-time and receive important notifications at all times. Only for Windows and Android OS.

Share protection with family and friends

Share your digital security with just a few clicks, still conveniently billed and monitored from your account.

Android and iOS mobile app

Get immediate access to your licenses and information about the security of your Windows and Android devices wherever you are.
ESET Mobile Security for Android is a solid choice for protecting your smartphone or tablet with its top-notch malware protection and huge array of anti-theft and privacy-protection features.
With ESET's updated antivirus, anti-theft and security audit capabilities, users are provided with extensive security protection that other antivirus applications don't offer.
ESET provides a comprehensive security product, which impressed us with its well-implemented features.
System requirements
Android 6.0 and higher
Device RAM 512+MB
Touch screen (minimum 480x800px)
Processor: 500+ MHz ARM7+
Internet connection
Google Play and Accessibility services
Dual SIM and rooted devices are not supported. Some features (for example, Anti-Theft) are not available on tablets that do not support calling and messaging.
* Some feature functionality is OS version dependent.
Download ESET Mobile Security for Android
This product is available as a free download. Premium features are available free of charge for 30 days after the activation. After this 30-day period, you can either purchase a Premium license or use the Free version indefinitely.
Due to new restrictions in Google Play, the ESET Mobile Security features that require SMS and call services permissions are not available if you download ESET Mobile Security for Android from Google Play. for more information, visit our documentation .
Download from ESET website:
Download from Google Play:
Includes premium features 30 days for free.