Australia's security industry is booming in 2022, making it an excellent time to be an IT reseller or MSP offering security services to customers. However, in a world in which businesses expect a more responsive and comprehensive security solution in the face of complex threats, many channel businesses find themselves needing to rely on multiple products from different vendors to give their clients the security solutions they need while finding some of those products are not delivering the features their customers are asking for. To find out how security products are viewed in the market, and what priorities and frustrations customers face, ESET conducted an Australian Channel Survey. The survey was conducted across February-March of 2022 and measured responses from participants in various roles requiring the use of security and monitoring software.* The survey revealed that the number one pain point respondents experience was having to use multiple security products for different data and customers, followed by the cost and complexity of the software or services (including licensing). Other significant pain points included the time required to monitor and troubleshoot, a lack of reporting, visibility and user-friendliness and the increased load on systems from client apps, as well as vendor products not being channel friendly.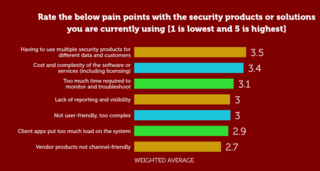 When asked which aspects of their MSP software were holding them back, cross platform endpoint antivirus was identified as a key concern, with a majority also highlighting file security for Windows Server, cloud-based threat protection, secure authentication, and mobile endpoint security for Android devices.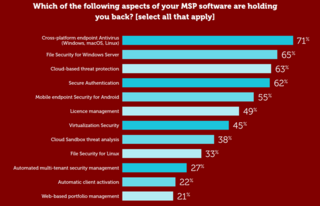 When asked which products and services were not well supported by vendor channel programs, 43% of respondents chose password management as a primary concern. About 35% say encryption and privacy protection are not well supported either. Other areas highlighted as needing amendment were protection against new threats (32%), network/smart devices (24%) and cloud app protection (23%), malware, ransomware and phishing protection (21%) and endpoint protection (20%).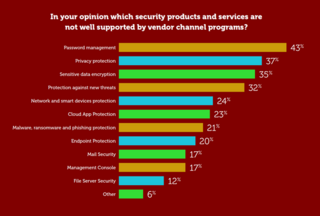 Customers' frustration with the number of products they need to use from different vendors is no surprise, given that 62% of them are using security products from three or more vendors.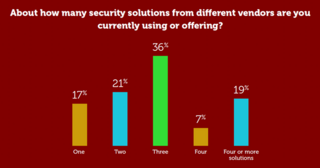 In fact, consolidating products and vendors emerged as the number one priority for customers' security strategy. Other priorities included procuring new and improved technology, broadening the solutions portfolio and reducing resources required to provide security. Improving margins, Integration with RMM and PSA solutions, and introducing tier-based pricing across clients were of lesser concern.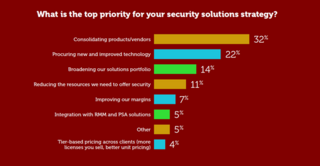 When asked which types of cross-sell opportunities respondents were most interested in, managed security systems received 52%, Cloud and Microsoft 365™ Office security had 48%, while mobile device protection and secure and two-factor protection received 40% each. Cloud-based advanced threat protection was given 37% of votes and data and disk encryption 15%.
What does this mean for security vendors and partners? The survey found that when looking for a vendor, reputation was the leading consideration, closely followed by growth opportunity and the product portfolio.
ESET Australia Country manager Kelly Johnson says the results of the survey deliver a clear message for the vendors and channel partners. "Security is complicated, and customers rely on their security partners to provide both solutions and services that de-risk security for them while delivering a comprehensive yet flexible solution. Customers need to have trust in their products and their partners and look for brands that have a reputation they can back up and a portfolio of products that deliver the security they need, without having to cherry pick solutions from a range of vendors.""At ESET, we've been delivering award-winning cybersecurity technology for more than 30 years. We offer best-in-class cybersecurity products for business across the spectrum of business needs, from endpoint, to file server security to cloud with industry-leading management consoles that give users control and flexibility. For our channel partners we provide the solutions their customers are asking for backed up by local support and global expertise. With ESET, partners and customers alike can be confident that their progress is protected."
For more details, access survey infographics here.
*About the survey
This survey was conducted in February-March 2022 by CRN on behalf of ESET and attracted 103 respondents: 34.82% were IT managers or IT directors, 16.07% were IT professionals, including developers, analysts and engineers, and the rest included people in sales and marketing roles, CEOs, CFOs, GMs or MDs, those in analysis, consulting or education roles or similar, in addition to people in other roles. Looking at the size of their organisations, 12.50% worked for employers that have more than 2,500 staff members, 31.25% were at organisations with less than 10 people, while 28.57% worked for companies that employ 10-49 people.