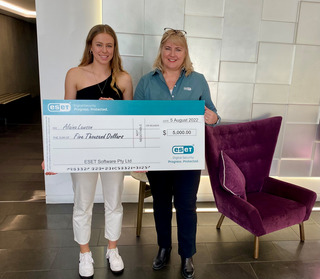 ESET Australia has announced the winner of the ESET Women in Cybersecurity Scholarship. The scholarship is part of ESET's global Women in Cybersecurity Scholarship program and awards $5000 to a woman currently enrolled in a graduate or undergraduate program majoring in a STEM (science, technology, engineering and mathematics) field.
This is the first year the annual scholarship has been awarded in Australia. The winner of the scholarship is Alaina Lawson, who is studying for a Bachelor of IT majoring in cybersecurity at the Australian National University.
Alaina got her start in cybersecurity when she started a week's work experience with cybersecurity firm Ionize as a year 12 student. She was asked to come and work for them once she finished high school, which led to a job as an analyst on Ionize's offensive security team. From there she moved to the Red Team, working as a penetration tester. Next came a shift to her dream job as a Cloud Security Engineer at Tracer Cloud alongside her full-time studies.
Along the way she's already picked up recognition for her skills and dedication, including the 2020 Lake Giniderra IT Award Recipient (awarded to the student with the highest IT
grades in the school), the 2020 WIC (Woman in ICT) Student Encouragement Award, being a nominee for the 2021 Australian Woman in Security Best Security Student and a top 10 finalist in the 2021 FAST (Female Advancing in Security and Technology) Awards.
Alaina says that working in an industry that requires continuous learning is what excites her the most about cybersecurity. "It is amazing to be involved in the delivery of cloud migration and cyber security services to clients, conduct incident responses, run penetration tests, analyse alerts, and apply what I am learning at university to the real world. This scholarship is helping me make an impact on the industry, not in three years when I finish my degree, but right now in my job. The core value of cybersecurity is to help and protect people, which perfectly aligns with my values."
ESET Australia Country Manager Kelly Johnson says she's honoured to present Alaina with her scholarship. "Alaina represents exactly the type of young woman the cybersecurity industry needs. She's curious, smart and unafraid of change. At 19 she has already accomplished a great deal and we hope that this scholarship will help her continue to further her dreams and show both the industry and other young women that cybersecurity is a career that needs their contribution."
About the ESET Women in Cybersecurity Scholarship
The ESET Women in Cybersecurity Scholarship was launched in 2016 to help support and encourage women who aspire to have a career in information security. A recent (ISC)2 Cybersecurity Workforce Study found that the actual percentage of women in the cybersecurity workplace has remained close to constant over the last three years, with women making up approximately 25% of the security workforce. To address this issue, a majority of survey respondents said that they believe the best way to increase women's representation in the field was to encourage women to pursue STEM degrees in college.
Applicants must be enrolled in or accepted to an accredited college or university within Australia, be an Australian citizen or permanent resident and have a minimum cumulative 3.0 GPA (or equivalent GPA in 9.0 scale).
Media Contacts:
Kelly Johnson
Country Manager
ESET Software Australia
+61 410 265 793
About ESET
For more than 30 years, ESET® has been developing industry-leading IT security software and services to protect businesses, critical infrastructure and consumers worldwide from increasingly sophisticated digital threats. From endpoint and mobile security to endpoint detection and response, as well as encryption and multifactor authentication, ESET's high-performing, easy-to-use solutions unobtrusively protect and monitor 24/7, updating defenses in real time to keep users safe and businesses running without interruption. Evolving threats require an evolving IT security company that enables the safe use of technology. This is backed by ESET's R&D centers worldwide, working in support of our shared future. For more information, visit www.eset.com or follow us on LinkedIn, Facebook, and Twitter.