Best antivirus for Mac and PC
ESET Cyber Security Pro provides comprehensive protection for Windows and macOS computers, as well as Android smartphones and tablets. As the CHOICE-recommended antivirus for Mac computers, it's the obvious choice for home and business users who are looking for the most advanced security solution for their Apple products.
ESET Cyber Security Pro comes with all the same features that you'll find in the basic Cyber Security package, with added protection against hackers and an easily configurable personal firewall to protect your network. The basic package is designed to protect Windows and macOS systems while the Pro package protects Android devices too, making it the best choice for users who want complete protection for all their home devices.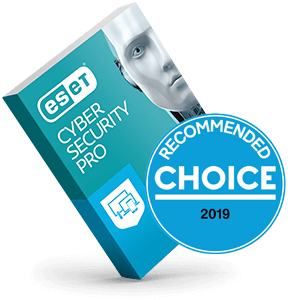 Protect your passwords and data
Protects against malicious websites attempting to acquire your sensitive information – usernames, passwords, banking information or credit card details.
Full feature trial. No credit card, no commitment.
Comprehensive security and privacy online

Multi-platform protection
Secure all your devices with a single license. No matter if you run on a macOS, Windows or Android - we got you covered!

Protect your online world
Protects you against different types of malware, including viruses, worms and spyware.

Secure your online identity
Keep your personal information safe from hackers. Increase the level of protection when connecting to public Wi-Fi networks.

Legendary antivirus technology
Protect yourself from ransomware and other types of malware with ESET's time-proven multilayered protection, trusted by over 110 million users worldwide.
Privacy protection
Stop hackers from getting you personal information. Prevent your kids from being exposed to offensive online content.

Minimal power usage
Play, work and browse the internet without slowdowns. Stay unplugged and online longer with battery-saving mode, and enjoy gaming without distracting performance drop.

Install and forget
Easy to install, renew and upgrade, our security is also designed for simple set up of all routine tasks.
protected users worldwide
Protect my computer with award-winning antivirus
Keep me safe from attacks attempting to acquire my sensitive information
Stop hackers from accessing my computer
Keep my network safe and let me manage it by myself
Get your internet security today
ESET Cyber Security Pro
ADVANCED SECURITY
Effective all-in-one internet security including personal firewall and parental control. Secures macOS, Windows and Android devices.
System requirements & documentation
System requirements
macOS
macOS 13 (Ventura), macOS 12 (Monterey), macOS 11 (Big Sur), macOS 10.15 (Catalina)
WINDOWS
Microsoft Windows® 11, 10 and higher operating systems
Please note that on Microsoft® Windows® on ARM, some features and functionalities are not supported. Read more
ANDROID
Android 5.0 and higher * (*ESTV AndroidTV 7.0 and higher)
Trusted by consumers and businesses alike