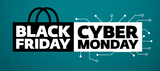 With Black Friday and Cyber Monday this weekend, offers and sales are not only available in-store, but online too, with promotions flooding into our email inboxes, TV's and social media.
Black Friday for the UK is the last payday before the Christmas season hits, and most retailers, online and in store, have promotions, offers and deals running throughout all or most of their products. Cyber Monday continues the sales exclusively online, sometimes adding additional discounts or items into the deals.
It is increasing in popularity, with a total spend of £1.23bn in 2016 on Black Friday alone, and Cyber Monday being the busiest internet-shopping day of the year.
Saving money does sound great, but not at the risk of compromising your cyber security, so we ask Mark James, ESET IT Security Specialist, for his professional top tips for staying secure over Black Friday and Cyber Monday.
"Like any social event or big celebrity news story you have to always consider the authenticity of the email or deal you're reading, especially when they can insert a degree of urgency.
"Black Friday and Cyber Monday are no exception.
"We are whipped into a frenzy by all aspects of the media, and encouraged in some instances to grab a bargain 'before it's gone'.
"These are the dreams of spammers and phishing instigators, to be able to send out emails that we mortals are unable to resist and to top it all off they can be as extravagant as they wish.
"Choosing a current well sought after item, compose an email with enticing pictures, use the obligatory "Black Friday Deals" headline and offer at a price that's too good to miss.
"They might also throw in a line or two at the bottom asking you to be very careful about clicking suspicious links, which obviously this is not as it's just an awesome deal!
"A lifelike webpage, lots of warnings - even a padlock to ensure your safety - and an easy online method of payment. Perfect, bagged a bargain!
"Or have you done no more except hand over your credit card details including your CVV number, full address, and name?
"They may have even been lucky enough to get you to create an account for 'Delivery Tracking' that gives them potential login, password and secret question data they can use elsewhere if you reuse said data.
"We do like a bargain, we do like the idea of getting a good deal on something and the bad guys know that, and they will try and trick you.
"They will adapt and tailor their approach to steal your data, and sadly will do all they can to make you a victim.
"Please be cautious, if you are not familiar with the company do some background checks.
"You may get your money back through fraud protection, but it's not all about the money to them, that's just a bonus!
"If you need or want the deal, double check it's legit.
"If it came via an email don't click the link, instead go direct to the website, check it out yourself, and always read retailer reviews (and take notice of them) before you buy.
"Saving a few pounds might not be so great if you get scammed or have to fight to get your goods."
Did you grab any killer deals on Black Friday? Let us know on Twitter @ESETUK.
Join the ESET UK LinkedIn Group and stay up to date with the blog. If you are interested in seeing where ESET has been featured in the news then check out our 'In the news' section.