Find ESET products that suit your needs
Unbeaten Protection
ESET makes the only product ever to win 100 VB100
Virus Bulletin, an independent testing organization, presented its first Virus Bulletin Award (VB100) in 1998 and to this day is considered to be the most renowned accolade in the industry. With an unbroken record over 18 consecutive years, no other security product can claim to be the top performer by this independent testing and certification body.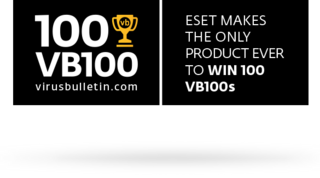 Blog
EternalBlue is back in the form of EternalChampion, EternalRomance and EternalSynergy.
The National Cyber Security Centre (NCSC) reports that its "great British firewall" is responsible for taking down 120,000 fake websites and blocking 54 million malicious attacks in 2017.
We Live Security blog
The vulnerability of critical infrastructure, including energy grids, to cyberattacks has been a growing concern worldwide. Many nations have been scrambling to improve their defenses vis-à-vis...
A record-high proportion of organizations worldwide (67%) said that they had been breached at some point, up from 56% in the report's previous edition.
Press Releases
With ransomware, malware attacks and cyber-threats becoming increasingly sophisticated and harmful, it is vital that consumers take appropriate steps to protect themselves with the highest levels of...