ESET named as THE ONLY CHALLENGER
in 2018 Gartner Magic Quadrant for Endpoint Protection Platforms
Find ESET products that suit your needs
Unbeaten Protection
ESET makes the only product ever to win 100 VB100
Virus Bulletin, an independent testing organization, presented its first Virus Bulletin Award (VB100) in 1998 and to this day is considered to be the most renowned accolade in the industry. With an unbroken record over 18 consecutive years, no other security product can claim to be the top performer by this independent testing and certification body.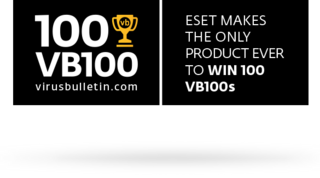 Blog
Encryption is a crucial part of GDPR compliance but why is it so important and how does it work?
First appearing in 2016, the TrickBot Banking Trojan has been ever changing. The latest evolution has added a new revenue stream for the malware's author.
We Live Security blog
Approximately US $150,000 worth of Ethereum-based cryptocurrency stolen.
Researchers find that a great portion of popular children's apps may run afoul of US privacy legislation by improperly collecting data – albeit often probably unintentionally. A response from Google...
Press Releases
With ransomware, malware attacks and cyber-threats becoming increasingly sophisticated and harmful, it is vital that consumers take appropriate steps to protect themselves with the highest levels of...