Cyber Security Top Tips
Quick tips for peace of mind online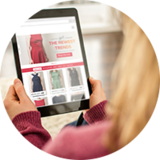 Backup your files and data to external hard drives, the cloud and don't forget to back up your phone regularly.
Check that a websites address is genuine by looking for misspellings.
Use 3G/4G for confidential browsing instead of free public WiFi.
Do not enter personal information on a website that has no padlock in the browser or https:// at the beginning of the web address.
Question all emails that seem out of the blue. Have you really had a transaction through your PayPal or Apple account? If in doubt, don't enter any details.
Delete and block spam/junk emails. Be careful when opening attachments or using internet downloads and don't click on links in emails from unknown senders.
Always ensure you are running the latest version of your chosen web browser.
Ensure you have effective and updated Anti-Virus software and firewall running before you go online. Do not install 2 Anti-Virus programs as they will conflict. Be aware of USBs containing malware that can run without your knowledge.
Use strong and random passwords/passphrases i.e. use at least 12 characters, include numbers and letters, both upper and lower case.
Different site? – different password.
Use a password manager to remember all your passwords.
Use two factor authentication(2FA) – This is when an account, such as your bank, sends you a code to your phone via text to verify who you are)
Never give these 2FA codes out to anyone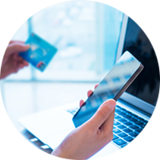 Change your default WiFi password (Google this to find out how)
Especially if you run a business, make sure you double check who is sending you invoices and where they want the money sent.
Use reputable companies when shopping online and read reviews on online shops that you have not used before.
Be aware of scams: criminal gangs operate scams and use the internet to defraud people and businesses, i.e. asking for money to pay for travel after losing a wallet, finance a sick relative, or winning the lottery.
Protect your identity online and beware of social engineering. Remember if you share any pictures or information with anyone online you will lose control of it and could be used in attacks such as trying to guess your passwords.
Take 5 minutes to think when about to send a large amount of money online. Is everything adding up as it should? Try and verify the transaction first by calling them • Report any suspicious activity to Action Fraud