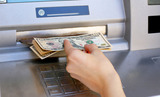 The leader behind the malware attacks which targeted ATMs, dubbed Carbanak and Cobalt, was arrested in Alicante this week.
The suspect, known as Denis K, was caught following an investigation by Spanish police, Europol and the FBI. Romanian, Belorussian and Taiwanese authorities also had a role to play in the manhunt.
The gang responsible for Carbanak and Cobalt have been operating since 2013, the malware itself instructs ATMs to dispense cash at fixed times while gang members lie in wait.
Mark James, ESET IT Security Specialist, comments on the apprehension and offers an insight into what might happen to the ill-gotten gains.
"Without specifics it's hard to say how the actual investigations work, but often in these cases it could be that the individual concerned either made an error or was lured into a scenario that enabled law enforcement to track his or her whereabouts and enable them to catch them.
"Internet anonymity is not as easy as it's made out to be: it's virtually impossible to be completely transparent in the digital universe especially if you are getting the attention of organisations worldwide.
"You also need help, many of the techniques require others to physically be at the locations. With the widespread nature of so much visual tracking around these days it's extremely difficult to move without being filmed somewhere especially in public places.
"Of course if you're reading this then its highly likely anyone involved is also reading it, it will certainly be harder to catch anyone involved, but money is a great reward and for some it may just be too hard to resist, if not this one then another may be their downfall.
"The money is unlikely to be returned, some may if it's able to be traced or stashed somewhere, the gangs have been working for a long while, and money obtained this way has a nasty habit of being used for nefarious purposes or used to fund further bad actors."
What do you think of this high profile arrest? Let us know on Twitter @ESETUK.