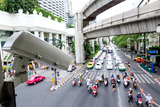 South Wales Police are trialling a new security feature at the UEFA Champions League final.
If you are heading to the game on June 3rd 2017, you will be subject to the experimental face recognition trial.
This trial can scan every single of the expected 170,000 visitors, and compare faces against a police database of 500,000 people of interest.
Whether or not you are attending the match, cameras set up around both the stadium and Cardiff's main train station will scan your face and compare with the database.
If there is a match to the database police receive a warning, which could potentially help prevent a terror attack or notorious hooligans.
There is much debate about the right to privacy, however the UK's surveillance camera commissioner reassures that the South Wales Police will honour the country's usage guidelines, which means officers can only collect as much information as they actually need.
We ask Mark James, ESET IT Security Specialist, about the use of surveillance like this and the repercussions on privacy.
"We do live in a difficult time at present regarding security and privacy, and those boundaries overlap frequently.
"On one hand, law enforcement agency's need all the help they can get to keep us safe in this economically fragile state, on the other hand we have a right to privacy.
"We should be able to do what is legal without concern that our privacy is being compromised or violated, but where does that line exist?
"In a situation where the police have the ability to get a heads up regarding potential 'people of interest', does that mean that they could stop a potential terrorist issue if they apprehended those concerned?
"What happens when they are just going to watch football? What happens if the recognition software blips or miss identifies someone?
"But those are not the only concerns; how is this data being protected, what is it being used for and will it be deleted afterwards, should be the questions and answers available for all to see.
"Any threat should be avoided if possible and if not, dealt with speedily but there has to be limits.
"We already have far too much of our private data bouncing around the internet without more joining it."
What are your thoughts on facial recognition for security? Let us know on Twitter @ESETUK.
Join the ESET UK LinkedIn Group and stay up to date with the blog. If you are interested in seeing where ESET has been featured in the news then check out our 'In the news' section.