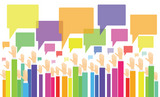 A recent Government survey has looked at how high a priority cyber security if for businesses and what online services they use day-to-day.
The Government has surveyed UK businesses to find out how they approach cyber security and help them learn more about the cyber security issues faced by the industry. The research informs Government policy on cyber security and how Government works with industry to make Britain one of the most secure places to do business online.
The 2017 survey again highlights that virtually all UK businesses covered by the survey are exposed to cyber security risks. Since 2016, the proportion with websites (85%) or social media pages (59%) has risen (by 8 and 9 percentage points respectively), as has the use of cloud services (from 49% to 59%). This year's survey also establishes that three-fifths (61%) hold personal data on their customers electronically.
In this context, three-quarters (74%) of UK businesses say that cyber security is a high priority for their senior management, with three in ten (31%) saying it is a very high priority. The proportion noting it as a very low priority is lower than in 2016 (down from 13% to just 7%) – a change mainly seen among the micro and small business population.
The full survey results can be found here.
"There are certainly some positives coming from this report, with cybercrime getting worse year on year, it's good to see companies taking notice and awareness expanding.
"The only way we are going to fight malware and cyber threats is working together, that means having the right software and or hardware installed and updated, expertise at hand, training and awareness of current threats.
"Cyber security is everyone's problem, from the smallest corner shop right through to large scale corporations, they all form an integral part of its distribution and therefore can help combat it.
"With the emphasis on prevention and awareness, more people are realising they can help.
"It's not just the job of the "IT" department, with so much of our business and personal lives being digital these days, we are encountering cyber-attacks in so many more ways.
"Either through our day to-day jobs, social networks, email or web browsing, the attack is relentless but this report shows we are seeing signs of increased spending in resources, hiring of experienced personal and a better understanding of how and why we need to invest today to protect tomorrows data, it's the only way we will win."
How high a priority would you say cyber security is for you? Let us know on Twitter @ESETUK.
Join the ESET UK LinkedIn Group and stay up to date with the blog. If you are interested in seeing where ESET has been featured in the news then check out our 'In the news' section.