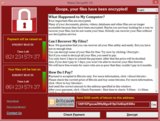 The EU cybersecurity agency is being revamped after the WannaCry ransomware scare, and is hoping to receive greater funding.
The EU cybersecurity agency ENISA is hoping to change as the European Commission renews the mandate, with a host of new cybersecurity measures. They have requested a larger budget to deal with all internet connected devices.
Previously ENISA has faced budget struggles, due to the lack of policing authority. The agency's role is limited to only providing research, advice, and arranging portals where national authorities can show each other how they respond to emergency attacks. If the ENISA had any say on legislation, budget could be more easily justified.
In the post-WannaCry ransomware hack, which attacked thousands of people last week (May 2017), the ENISA director wants to increase the budget given to cybersecurity to reduce the chances of such a large attack happening again.
The director said with the world of cybercrime getting like this, "you might need more than just a soft approach on cybersecurity. It would be good to have seven days a week, 24 hour resources here."
Mark James, ESET IT Security Specialist, discusses whether it is a good idea to strengthen the approach on cybersecurity in the EU.
"In my book anything that helps us target cybercriminal activity with a view to eradicate or slow it down, then that has the thumbs up from me, and seriously, however small it may seem it has to be a good thing right?
"We are not going to win the war over night. We need good solid intelligence, a good covering of knowledge and understanding, and strong solid experience in the fields that need it.
"We need to work together, and that's not going to just happen, everyone needs to do it.
"Physical criminals will target the weak spots and cyber criminals are no different, those targets may be individuals, companies or even countries.
"In most aspects of life working together gets results. You pool resources, knowledge, experience and manpower to form a sizeable force that gets results; it's the only way forward.
"Any business regardless of size can benefit from help, quite often it's not clear where that help may be and thus goes unused.
"Providing good solid advice and resources are great but a good clear understanding of what is and where it's available from should also be an important factor.
What do you think of the proposed changes? Let us know on Twitter @ESETUK.
Join the ESET UK LinkedIn Group and stay up to date with the blog. If you are interested in seeing where ESET has been featured in the news then check out our 'In the news' section.