How have cybersecurity incidents increased, and what are the most commonly targeted sectors?
It's more important than ever before that we take steps to protect our personal data, as nobody wants to see their personal or financial information fall into the wrong hands.
However, this is especially true for businesses, who as well as holding their own important data are also often responsible for looking after the information of potentially thousands or millions of customers and clients.
That's why it's vital that businesses of all sizes are protected from cyber threats through businesses protection solutions such as endpoint protection, but just how big is the problem, and which industries are the most targeted?
Here's a look at how cybersecurity incidents have changed over the last couple of years and the most common types of attacks, and the industries that are targeted the most often, according to data from the ICO (Information Commissioner's Office).
How have cybersecurity incidents increased?
Data security incidents aren't all necessarily classified as cybersecurity incidents, with cyber incidents defined as being those with a clear online or technological element with malicious, such as phishing or malware, while non-cyber incidents don't have a clearly online or technological element and could contain things such as theft from paper filing systems or information being accidentally emailed to the wrong person.
While data security incidents have decreased overall in the last couple of years (potentially due to the coronavirus pandemic), when we look solely at cybersecurity incidents, we can see that these have actually increased.
Since the first quarter of 2019/20 (that's April to June), the number of cybersecurity incidents has increased by 25%, from 573 to 714.
The period when cybersecurity incidents peaked was between July and September of 2020, with 737, and again, this seems to coincide with the onset of the coronavirus pandemic.
The pandemic forced many businesses to accelerate their adoption of digital technologies as most people started to work from home, but without the correct precautions, this also seemed to lead to an increase in data breaches.
The most targeted sectors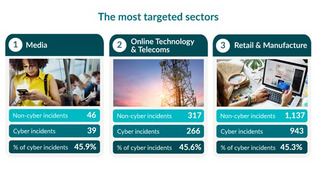 1. Media
Non-cyber incidents: 46
Cyber incidents: 39
Percentage of total incidents that were cyber: 45.9
While it only had a relatively low number of data security incidents overall, the media sector had the highest share of cyber incidents, with almost half of data breaches being cyber ones. The world of media is becoming increasingly digital, leaving it more susceptible to attacks, with content leaks and misinformation amongst the biggest threats that the sector faces.
2. Online technology and telecoms
Non-cyber incidents: 317
Cyber incidents: 266
Percentage of total incidents that were cyber: 45.6
Not far behind media is the sector of online technology and telecoms, where 45.6% of data security breaches are deemed to be cyber attacks. Of course, this sector is at the forefront of digital technology, so it's perhaps not surprising that it is also amongst the most targeted by cybercriminals.
3. Retail and manufacture
Non-cyber incidents: 1,137
Cyber incidents: 943
Percentage of total incidents that were cyber: 45.3%
Retail and manufacturing were on the receiving end of the most cyber security incidents overall, with just shy of a thousand. Still, it was also the industry that saw cyber threats make the third-largest share of incidents, with 45.3%. The coronavirus pandemic has meant more customers than ever before engaging with these businesses online rather than in person; retail companies deal with the information of large numbers of customers, which makes them an enticing target for hackers.
The most common types of cybersecurity incidents
Cyberattacks can come in many different forms and can be as simple as someone guessing your password or stealing your phone or laptop or extremely sophisticated attacks such as ransomware and malware. But which are the most common ones that you should be aware of?