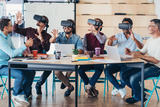 Is it a good idea to store racy data online? What about data stored by racy services online?
Users of the adult VR app SinVR could be vulnerable to targeted blackmail and social engineering after the sensitive data of 20,000 of its users was leaked online.
The vulnerability in the app lead to hackers being able to download users' names, email addresses and device names. It took the SinVR days to fix the issue.
Mark James, ESET IT Security Specialist, explains that this is a prime example of why we should think twice about storing highly sensitive data online.
"Any data loss can cause considerable concerns for the victim and sadly in some cases could lead to financial struggles.
"Often this type of data is used for phishing purposes or even used directly to obtain more info.
"For most of us phishing is part of our everyday lives: the emails arrive, is identified and often deleted. In some cases, the actual data and circumstances involved in the breach could cause not just inconvenience but very personal distress.
"If the data is of a sensitive nature then the likelihood of seeking help is reduced, in the circumstance the attack has a much higher chance of success.
"When things go wrong like this it's a real eye opener of the dangers of storing even the smallest amount of data in association with "private" applications."
Does this make you think twice about where your personal data could be stored? Let us know on Twitter @ESETUK.