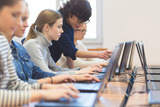 As cybercrime is on a dramatic incline, the government seem to be struggling with the shortage in cyber security skills.
There seems to be a lack of confidence in the UK's ability to protect itself from cyber-attacks due to a skills shortage.
Despite cyber-attacks being ranked as a top four risk to UK national security since 2010, according to the Public Accounts Committee, there seems to be a Government struggle to make sure the security profession is adequately equipped to do the job effectively.
Mark James, ESET IT Security Specialist, discusses the cyber skills shortage in the UK and the importance of beginning cyber training from a young age.
"The reason our youth of today find using mobile phones and tablets "child's play" is purely because they are introduced to them from an early age.
"When it's a natural uptake it's so much easier.
"Cyber training is no different. It is far easier for someone to embrace and digest the types of skills needed to adapt into a life of cyber protection when it is offered from an early age.
"These skills need to develop.
"The thrill and excitement of working in this industry needs to take root early, but just as importantly to make the decision to form your career around a specific industry you need to have faith that it's going to work for you.
"Good clear career paths are important things to consider.
"Understanding what's needed to secure our future and having the resources available to make that attainable are things we need to think about."
Do you think more resources need to be made available for teaching IT skills from a younger age? Let us know on Twitter @ESETUK
Join the ESET UK LinkedIn Group and stay up to date with the blog. If you're interested in seeing where ESET has been featured in the news then check out our 'In the news' section.