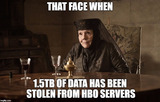 Hackers have breached the American Television Company, HBO, and stolen 1.5TB of data which they are slowly leaking online.
The leak was publicised by the hackers themselves, by sending private emails to a select list of reporters. These emails contained links to the leaked material, as well as leaving a message within the email promising to leak more content saying: 'Enjoy it & spread the word. Whoever spreads well, we will have an interview with him. HBO is falling."
They haven't released all the files, only a few upcoming episodes and some written material that looks like scripts for Game of Thrones season 7 that haven't aired yet.
HBO's CEO and chairperson sent an internal email informing all staff about the hack and leak of material. Shortly after HBO confirmed the leak to Entertainment Weekly, who broke the story.
HBO is not the first company to suffer a breach like this, as not that long ago Orange is the New Black season 5 was leaked after a targeted attack on Netflix.
Mark James, ESET IT Security Specialist, discusses the cyber security of companies like HBO and Netflix, and why data breaches like this continue to occur.
"As with any current high profile TV show news regarding leaks and stolen scripts generates some interest but in today's high speed digital delivery of goods it does not have the punch of yesteryear.
"It makes the news of course because as a security incident any data loss is a bad thing for everyone.
"Within the mix of scripts and other tidbits from the haul of 1.5tb of data stolen, there may well be some sensitive personal information that might be used for other nefarious means.
"However, at the end of the day this is simply a data breach.
"Someone broke in to their 'building' and stole goods or products that do not belong to them: it's no different to the contents of your garage, the pictures in your cloud drive, or your logins and passwords.
"There are only two ways of stopping it: tighter control over the protection and security of the goods in the first place, or simply not having a demand for the end product.
"Unfortunately, we as humans like to be the holders of knowledge that no one else has, and that single reason will be why this type of 'bootie' has a digital or notoriety value."
Are you worried about potential Game of Thrones spoilers online? Let us know on Twitter @ESETUK.
Join the ESET UK LinkedIn Group and stay up to date with the blog. If you are interested in seeing where ESET has been featured in the news then check out our 'In the news' section.