Comprehensive security solution for all business sizes
Full visibility of your network and endpoints, wherever you are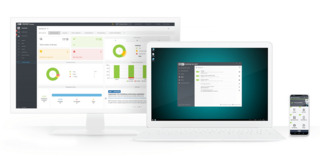 Experience the console's full potential right now.
No need to install or set up anything.
What IT pros are saying

Angela S
"It is very much customisable tool. In my opinion it is the most functional, robust and manageable tool than any other."

Jason D
"The interface is easy to use and lightweight on the system. When used on a 4+ core device with an SSD, the system impact is negligible for most office tasks."

Jaliya S
"It is easy to use, simple and understandable. Therefore, we can easily manage the features of it. Also, it is easy to install, configure and update. "

Jen D
"I love the way it helps us in detecting unnecessary things that are continuously running our systems behind. In this way it enhances the security of our system."
Based on customer reviews, through G2 Crowd surveys that asked ESET business customers to rate their experiences using ESET PROTECT solutions.
Buy online
ESET PROTECT Entry
Modern multilayered endpoint protection featuring strong machine learning and easy-to-use management.
Management Console
Endpoint Protection
File Server Security
Try before you buy
Try out the ESET PROTECT platform in action


One-click access to interactive demo
No installation needed
Experience cloud management first-hand
Full 30-day free trial


Trial a full licence, no commitment
Install and deploy our protection solutions
Experience the light footprint on your systems
Contact Sales
Make an enquiry
Are you interested in additional discounts or higher quantities?
Leave us your contact details to receive an offer tailored for your company's needs.
No commitment.

protected by ESET since 2017
more than 9,000 endpoints

protected by ESET since 2016
more than 4,000 mailboxes

protected by ESET since 2016
more than 14,000 endpoints

ISP security partner since 2008
2 million customer base
System requirements and licence information
ESET PROTECT Entry
Supported operating systems
Microsoft Windows 11, 10, 8.1, 8, 7, SP1
macOS 10.12 and later
Ubuntu Desktop 20.04 LTS and 18.04 LTS 64-bit
Red Hat Enterprise Linux 7, 8 64-bit with supported desktop environment installed
SUSE Linux Enterprise Desktop 15 64-bit
For smartphones and tablets
Android 5 (Lollipop) and later
iOS 9 and later
Microsoft Windows Server 2022, 2019, 2016, 2012, 2008, R2 SP1
Microsoft Windows Storage Server 2012, 2008R2
Microsoft Windows Small Business Server 2011
RedHat Enterprise Linux (RHEL) 7, 8
CentOS 7, 8
Ubuntu Server 16.04 LTS, 18.04 LTS, 20.04 LTS
Debian 9, 10, 11
SUSE Linux Enterprise Server (SLES) 12, 15
Oracle Linux 8
Amazon Linux 2
Cloud and on-premises management included
Remote management platform is available as cloud-based or on-premises deployment. No need to buy or maintain additional hardware, reducing the total cost of ownership.
Mix and match your licences as needed
ESET Unilicense covers all the bases, allowing you to mix and match endpoint protection without wasting a single licence.
Add additional devices at any time
You can purchase licences for additional computers, laptops, mobile devices and servers any time.
Transfer a licence to another computer
You can transfer a valid ESET licence to a completely new computer from the original one. In addition, you can switch from one OS to another.
Switch to a different platform at any time
It's easy to switch your protection from one platform to another at any point during the licence term without having to purchase additional licences.
Frequently Asked Questions
Can I try your solutions before buying?
Absolutely. If you want to see our ESET PROTECT management platform in action, try our interactive demo. No installation is needed and you can experience first-hand how your cloud management will look after few weeks of use.
If you are more interested in testing the full-feature licence, please request a free trial. You can install and deploy our protection solutions and test them free for 30 days, without any commitment. If you are interested, our experienced UK-based team will contact you and discuss any additional questions or specific business requirements you might have.
What do users appreciate about ESET?
Verified customers appreciate that ESET has:

Minimal system footprint
Excellent malware accuracy
Easy deployment and management
"Sleek interface and works as expected every time. All policies and remote administration is straightforward and thoroughly documented if there are questions."
Read the full review and more on ESET's G2 profile.
Related resources and documents

Looking for more security options?

Modern multilayered endpoint protection featuring strong machine learning and easy-to-use management
Best-in-class endpoint protection against ransomware & zero-day threats, backed by powerful data security