ESET Identity & Data Protection

Seamless enterprise-grade encryption and two-factor authentication to ensure an organization's data is protected in accordance with compliance requirements. Enables:
Intellectual property protection
GDPR & other regulations compliance
---
Bundled solution for enterprise includes
ESET Secure Authentication prevents security breaches by validating users' identities for commonly utilized systems such as VPNs, remote desktop, Outlook Web Access and more.
ESET Endpoint Encryption is a powerful yet simple encryption for hard drives (FDE), removable media, files and email that enables full remote device management without requiring VPNs.
Use case: Prevent data leakage
PROBLEM
Every company utilizes removable media devices to move data from one computer to another, but most do not have a way to verify that the data is staying only on company devices.
SOLUTION

Implement user-proof removable media to restrict the moving of data outside of the company.
Restrict access to removable media devices to selected users.
Recommended ESET solution: ESET Endpoint Encryption.
Use case: Prevent data breaches
PROBLEM
Businesses are in the news every single day notifying their customers that a data breach has occurred.
SOLUTION

Protect sensitive data with ESET Endpoint Encryption by means of full disk encryption (FDE).
Protect vulnerable communications such as remote desktop by adding two-factor authentication.
Require two-factor authentication in order to log in to devices that contain sensitive data.
Use case: Strengthen password protection
PROBLEM
Users utilize the same passwords across multiple applications and web services, putting a business at risk.
SOLUTION

Restrict access to company resources by leveraging two-factor authentication.
Requiring two-factor authentication reduces the worry associated with shared or stolen passwords by requiring an OTP in addition to a password.


Protected by ESET since 2011.


Protected by ESET since 2016.
Recommended cybersecurity services
Early warnings about threats and comprehensive data feeds from cloud-based cyberspace intelligence that ESET collects from more than 110 million sensors worldwide.
Installation and configuration of a specific product in your environment to reduce complexity and ensure business continuity.
ESET has been our reliable security solution for years. It does what it has to do; you do not have to worry. In short, ESET stands for: reliability, quality and service.
- Jos Savelkoul, Team Leader ICT-Department; Zuyderland Hospital, Netherlands; 10,000+ seats
Explore our customized solutions
Provide your contact info and we'll design a personalized offer to fit your requirements.
No commitment.
Looking for more?
Add complete endpoint security


Comprehensive, easily managed protection; incorporates off-premise cloud sandboxing that leverages machine learning and behavior-based detection. Includes:
Security Management Center
Endpoint Protection Platform
Cloud Sandbox Analysis
Add comprehensive mail security


Business solution incorporating antispam, anti-phishing and Cloud Sandbox Analysis for the complete protection of mailboxes and mail servers. Includes:
Security Management Center
Cloud Sandbox Analysis
Mail Security
Stay on top of cybersecurity news
Brought to you by respected security researchers from ESET's 13 global R&D centers.
Corporate blog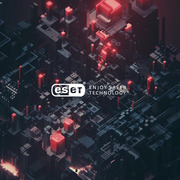 Botnets are one of the top cyber threats to look out for in 2020, according to Forrester, and with a dispersed, remote workforce, many organizations may be more vulnerable than ever before.
Webinars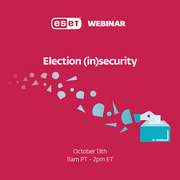 Tuesday, Oct 13, 2020
As the countdown to the U.S. presidential election continues, concerns about cybersecurity are on the rise.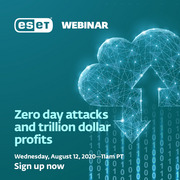 Wednesday, Aug 12, 2020
Learn about the latest advanced cyberattacks and effective defenses.