Get the level of protection that's right for your organization
Protect your endpoints, business data and users with ESET's multilayered technology. ESET PROTECT platform offers customizable security solutions, managed easily from a cloud or on‑premises console.
Modern multilayered endpoint protection featuring strong machine learning and easy-to-use management
Best-in-class endpoint protection against ransomware & zero-day threats, backed by powerful data security
Looking for specific areas of protection?
Easy-to-use device security including advanced privacy features for safe online banking and data transfers.
Cyber risk management and visibility into IT environment, including Endpoint Detection and Response.
Comply with data regulations thanks to our Encryption and 2-Factor Authentication solutions.
Advanced protection for Microsoft 365 apps, with added proactive threat defense.


Protect your file servers, SharePoint or Gateway servers with multi-layered protection.


Protection category
Cloud Security
Advanced preventive protection for your Microsoft 365 cloud email and storage.
Protection category
File Server Security
Protect your file servers, SharePoint or Gateway servers with multi-layered protection.
Protection category
Cybersecurity Services
Browse our security services such as Threat Hunting or our professional services like Deployment or Premium Support.
Learn more
ANSWER A FEW QUESTIONS AND FIND YOUR IDEAL SECURITY SOLUTION.

Let us help you find the right solution
STEP 1 OF 5
What is your current role?
Manage your endpoints wherever you are
ESET PROTECT is a unified security management tool for ESET business products across all operating systems, available as both cloud or on‑premises installations. Learn more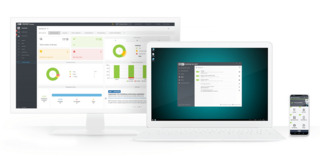 Committed to the highest industry standards
Appreciated by customers worldwide
Meet ESET
For more than 30 years, ESET® has been developing industry-leading IT security software and services to businesses and consumers worldwide. ESET has long pioneered multilayered detection, machine learning and cloud technologies that prevent, detect and respond to malware.
internet users protected by ESET technology
business customers in 200+ countries and territories
Resources and related documents
Useful links
Learn more about:
Stay on top of cybersecurity news
Brought to you by awarded and recognized security researchers from ESET's 13 global R&D centers.
Corporate blog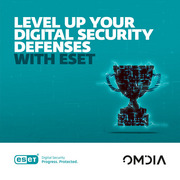 With cyber threats continuing to rise in prominence, a single layer of defense is no longer enough. ESET Endpoint Security's multilayered defense means it can detect malware pre-execution, during...
Webinars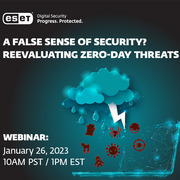 On-demand
We take a fresh look at zero-day threats, including some findings from recent research...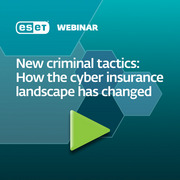 On-demand
Ransomware is still a significant threat, but online crooks are shifting their targets and tactics.
We Live Security blog
As our latest APT Activity Report makes abundantly clear, the threat of cyberespionage and stealthy attacks remains very real
The post Key takeaways from ESET's new APT Activity Report – Week in...
"Can I tell a legitimate survey apart from a fake one?" is the single most important question you need to answer for yourself before taking any surveys online
The post Is that survey real or fake? How...