ESET Deployment and Upgrade Service

ESET's Deployment and Upgrade Service installs and configures a specific product in a customer's environment and provides training to ensure successful operation. Our service reduces the overall complexity associated with a new endpoint security provider and ensures business continuity.
---
Why use a deployment and upgrade service?


Lack of manpower
The general shortage of security specialists means IT departments may need to outsource certain tasks to maintain business continuity.


Compliance
Many industries have strict certification and compliance policies that require products to be deployed by authorized vendors.


Long-term costs
Creating dedicated teams and/or hiring specialists to perform occasional tasks can incur high long-term costs.


protected by ESET since 2011
license prolonged 3x, enlarged 2x


protected by ESET since 2008
license prolonged/enlarged 10x


protected by ESET since 2016
more than 14,000 endpoints


ISP security partner since 2008
2 milion customer base
Why choose ESET?
Three stage process
Deployment and upgrade are separated into the proposal, execution and post deployment phases. Monitoring on the Enterprise Inspector console by a live operator from ESET ensures customer expectations are exceeded.
Training included
ESET will train your employees to ensure success during the deployment and setup process as well as smooth operations going forward.
Initial assessment means no surprises
ESET conducts a thorough initial assessment prior to any execution or deployment to ensure a smooth deployment with no surprises.
Follow-up survey
We'll send a customer satisfaction survey to follow up and make sure your expectations have been met.
Explore our customized solutions
Please leave us your contact details so we can design a personalized offer to fit your requirements.
No commitment.
Looking for additional solutions?
Related enterprise-grade solutions


Security Management Center
Endpoint Protection Platform
Cloud Sandbox Analysis
Endpoint Detection & Response
Related products and services
Stay on top of cybersecurity news
Brought to you by respected security researchers from ESET's 13 global R&D centers.
Corporate blog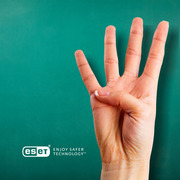 Practicing good cyber hygiene is a critical part of staying safe online and protecting yourself from threats such as malware, phishing, viruses and data loss – and it doesn't just apply to your...
Webinars
Wednesday, May 13, 2020
Did you miss ESET's presentation? Watch "Ransomware from the Dark Side" by Tony Anscombe on-demand now...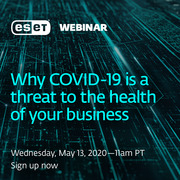 Wednesday, May 13, 2020
Join ESET researchers Robert Lipovsky and Ondrej Kubovic, who have been following the situation closely, to hear about the latest attacks...